Some designers are wary of hard floors, despite their intriguing hues and timeless styles. They believe them to be chilly and uncomfortable, especially during winter months, but there's no need to fear cold weather with our tile selection, which is completely compatible with underfloor heating!
The percentage of households with underfloor heating is rapidly increasing, as more and more people appreciate the luxury of padding across warm floors, even in the depths of winter. Not only does it feel pleasant underfoot, it distributes heat evenly and efficiently, avoiding the cold spots produced by radiator heating. You also have a greater amount of design freedom, with up to 15% of the space freed up by the absence of radiators! You can cover this new space with textured limestone, decorative tiles or wood-look porcelain – anything to achieve your desired aesthetic.
Classic Limestone
Underfloor heating is no obstacle to your favourite decor, be it porcelain or limestone. However, limestone tiles are denser, meaning that this timeless material retains heat for longer.
Our gorgeous Zorzella Brushed Limestone combines this capacity for warmth with beautiful blue undertones and distinctive markings. The tile has been brushed to enhance these handsome shades and give it a textured surface, highlighting the veins and fossils unique to limestone. As well as providing an intriguing appearance, these markings bring a sense of authenticity and natural history into the home, which can be spread throughout the kitchen, hallway or living space. Available in a large, square-edged format, Zorzella can also create the ultimate in fashionable, continuous interiors, the last word in trending tile layouts.
Our Provence Porcelain provides a similar limestone effect, but uses super durable and easy-to-clean porcelain material. This Italian rectified tile has all the characteristics of limestone, including distinctive veins and fossils in glimmering ivory or the darker shade of ecru, both of which create a dynamic and modern kitchen or bathroom, especially when supplemented by energy-efficient underfloor heating.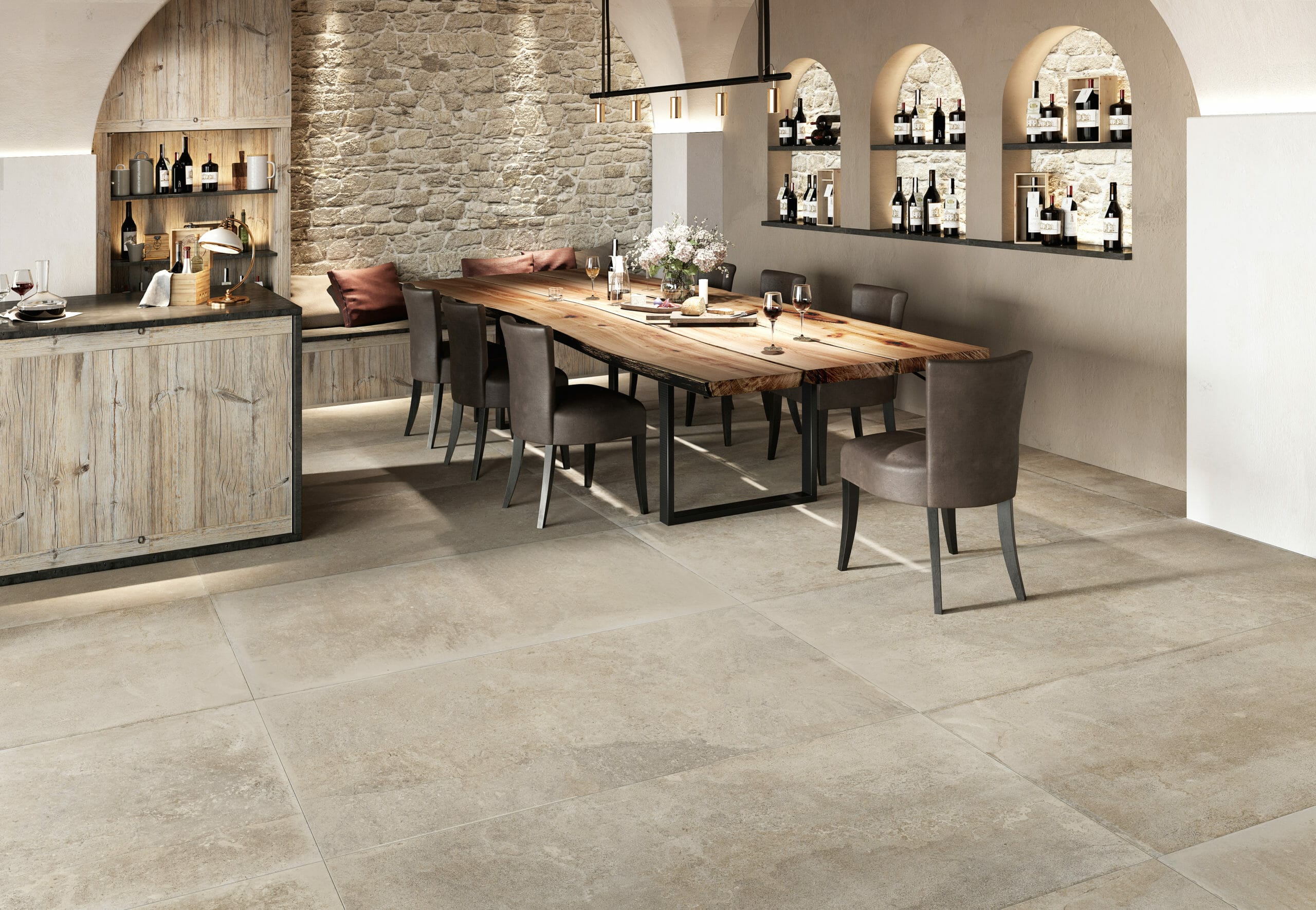 Taking Underfloor Heating Outside
Bathrooms and kitchens are by far the most popular rooms for installing underfloor heating, but it's by no means limited to these two rooms!
Our bestselling Madras limestone makes for a perfect kitchen, hallway or patio, aged and tumbled to create a subtly textured flagstone. The worn edges and the soft shades of sage, grey and amber give it an authentic and traditional appeal that looks wonderful. With the addition of underfloor heating, you can protect the stone from snow and frost, as well as create a cosy outside sitting area, ideal for enjoying the garden at any time of year.
Similarly, our glossy Geneva Porcelain range comes with a polished, natural or external finish, letting you pave your garden with textures inspired by various stones and marbles. You can even create your own themed corner, with detailed tiles in silver, coast, nite and platinum suitable for both walls and floors!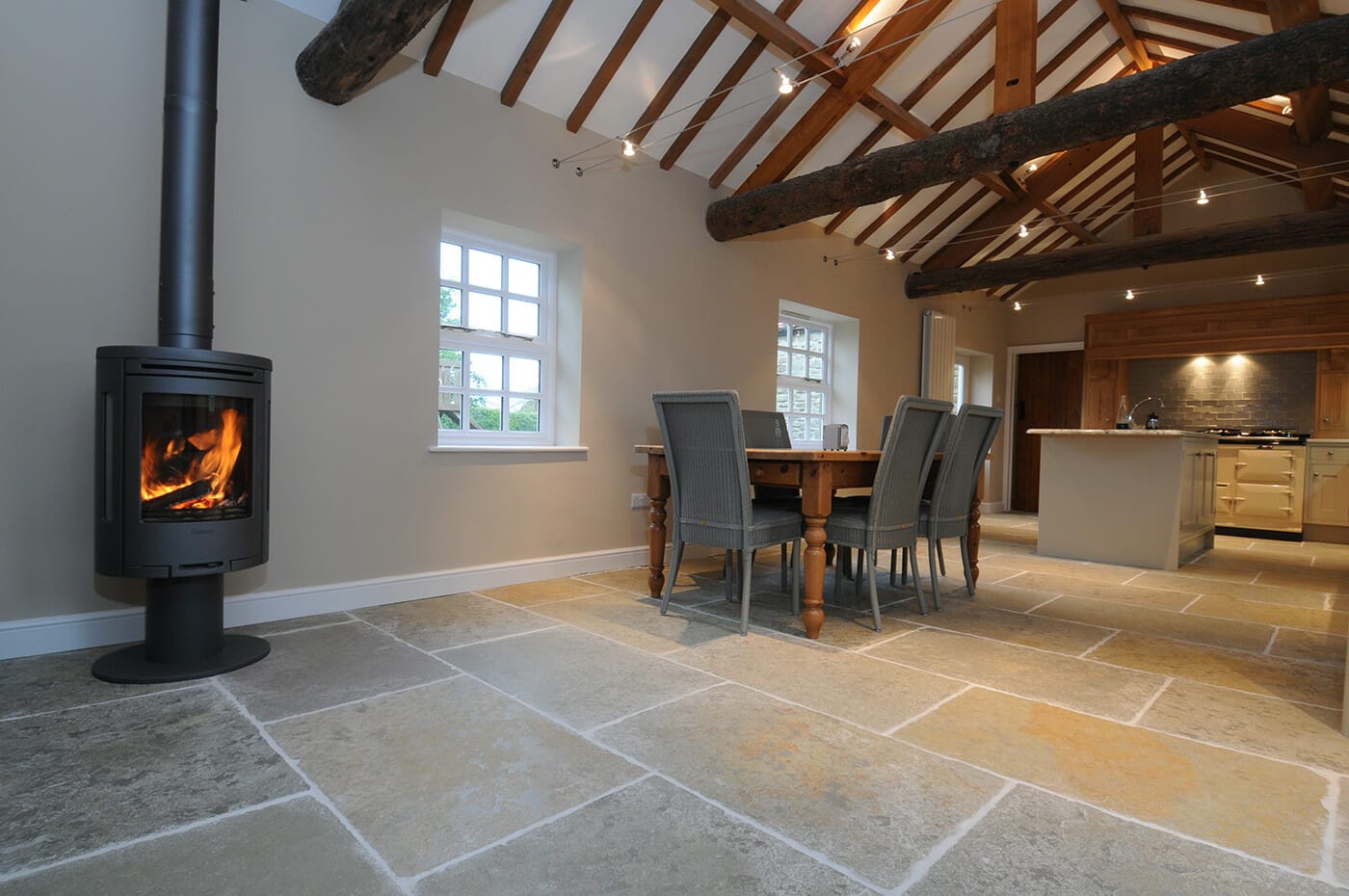 The Allure Of Hardwood
Wooden floors have a particular allure, their rich tones conveying warmth and rusticity, with the natural materials recalling the much sought-after sustainability aesthetic. By pairing a wood-look porcelain with underfloor heating, your floor can be top of the class for visual appeal and comfort, leaving you free to pad across the tiles barefoot and enjoy the warmth coming through from below. Our Norway Porcelain offers four sumptuous natural colours, from light pine to our dark reclaimed wood tile, forming an authentic-looking floor just perfect for a rustic kitchen, welcoming hallway or sauna-style bathroom.

Browse Our Website
Discover our magnificent flooring by browsing our website or viewing our tiles in person at one of our five showrooms!
We also showcase our tiles on Facebook, Instagram, Twitter and Pinterest, so follow us for offers, design ideas and more.