Trends come and go, but some styles can be truly timeless. Tumbled stone effect porcelain is a style that we feel perfectly fits that category, an artful fusion of rustic charm and modern functionality. At Terzetto Stone, we pride ourselves on offering tiles that transform spaces into stories, and these tiles are no different.
Imagine the weathered elegance of ancient stone brought to life in a contemporary setting. This effect encapsulates this juxtaposition flawlessly. It masterfully replicates the aged, textured appearance of natural stone, presenting a harmonious blend of vintage charm and practical durability. Let's take a look at some of our best examples.
Our Tumbled Stone Effect Porcelain Tiles
Choosing the perfect tile can be a design odyssey in itself. Terzetto Stone simplifies this journey with expertly curated selections:
For those seeking the allure of rustic stone in their living spaces, Bourgogne offers a rich blend of history and comfort.
The Bourgogne Natural Porcelain is a testament to the artistry of tumbled stone effect tiles. Inspired by natural Pierre de Bourgogne, a historic stone laced throughout French architecture, its gently aged appearance invites a sense of history into any space. Whether it's a rustic kitchen or a serene living room, Bourgogne's timeless appeal is the perfect backdrop for creating an atmosphere of elegance and comfort. The surface of this particular tile boasts a gentle glimmer that subtly accentuates interiors with a sense of style and iridescence. This occurs as a result of a special honing process, while the tumbled edge furthers the realism of this limestone effect tile.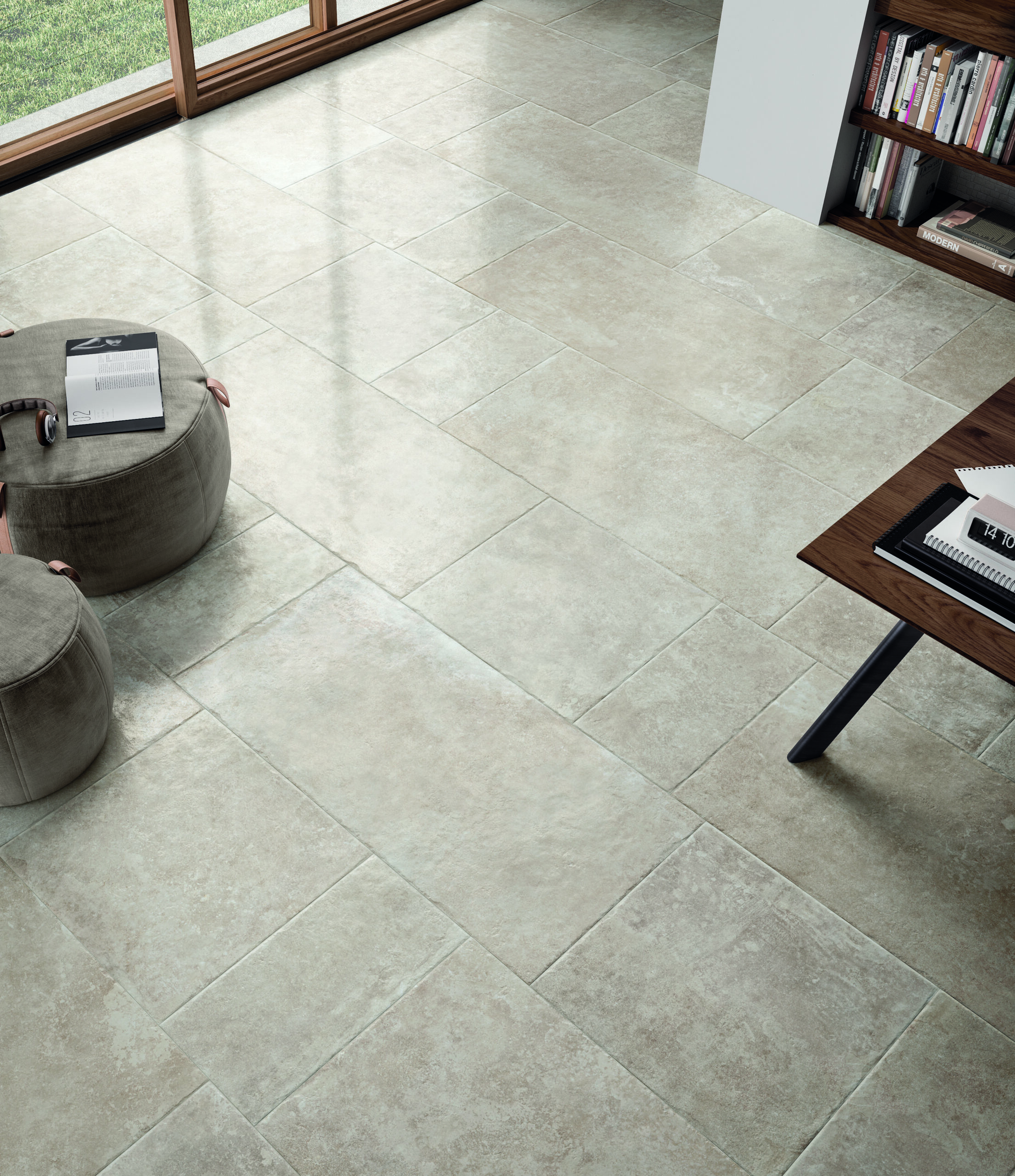 This tile is your gateway to tranquillity, inviting the serenity of the outdoors into your interiors while standing strong in exterior applications.
The Jerusalem Natural Porcelain transports you to the narrow streets of an old city, where history whispers through cobblestones. This tile captures the essence of aged stone with precision, evoking a sense of authenticity that's perfect for both interior and exterior use. Its weathered texture and earthy hues make it a versatile choice, infusing your surroundings with an air of serenity.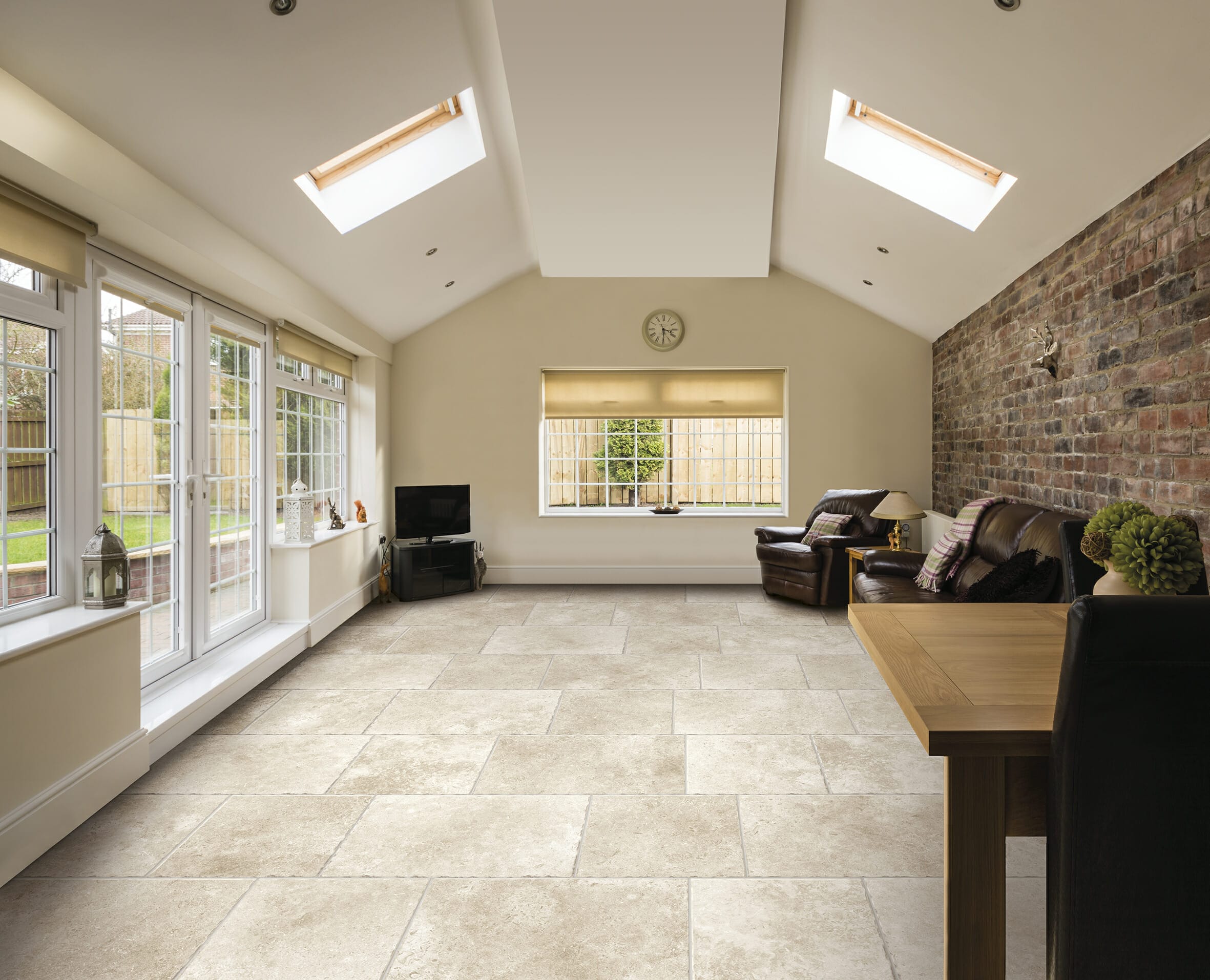 The innovative spirit of Campania redefines nostalgia, allowing you to weave timeless stories in modern settings.
Introducing the new Campania Tumbled Effect Porcelain – a marriage of innovation and nostalgia. With its charming surface texture and intricate detailing, Campania transports you to eras gone by while embracing modern practicality. This tile opens up a world of design possibilities, allowing you to create unique spaces that pay homage to the past while embracing the present. This couldn't be truer than with the Roman Opus Pattern, which consists of 4 tiles of varying sizes that form a 12-tile repeat pattern.
Each of these tiles is available in both interior and exterior formats, as well as several colour options to suit absolutely any space.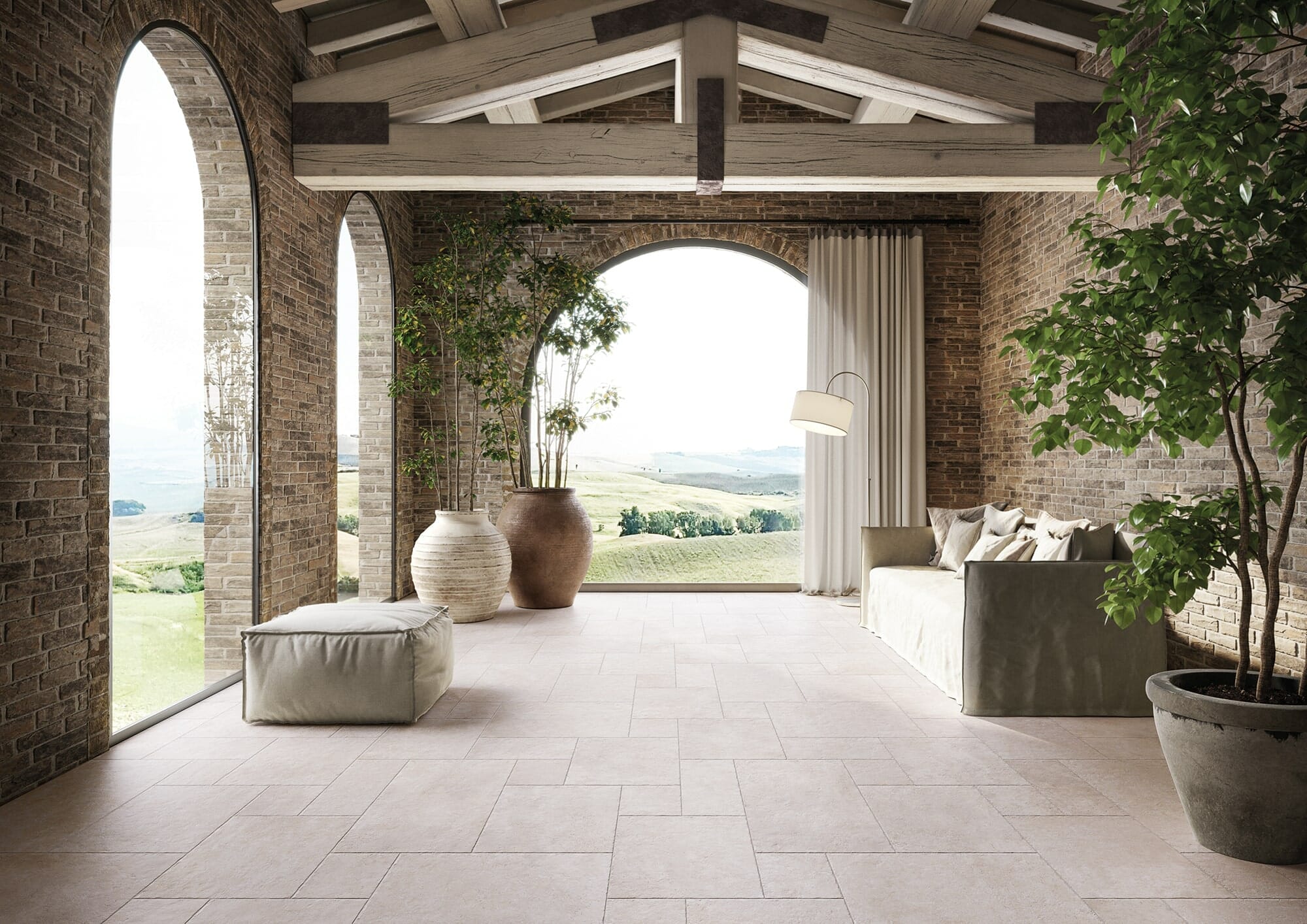 Why Tumbled Stone Effect Porcelain?
While the visual appeal of tumbled stone effect porcelain is undeniable, its practical advantages are equally noteworthy. Unlike natural stone, porcelain tiles are non-porous, making them resistant to stains and water damage. This means that the authentic beauty of tumbled stone can be enjoyed without the maintenance concerns that accompany natural materials. Porcelain's durability ensures that your investment withstands the tests of time.
Over To You…
As you embark on your design journey, let our tumbled stone effect porcelain tiles be your guide into the past and present. With their weathered beauty and practicality, they transform spaces into narratives, allowing you to tell stories that resonate across eras. Terzetto Stone's collection invites you to create spaces that transcend time – where rustic elegance meets contemporary functionality. With each step, you're crafting a story that's as enduring as the porcelain itself.
Browse our website or see our tiles in person at one of our five showrooms! We also showcase our tiles on Facebook, Instagram, Twitter and Pinterest, so follow us for offers, design ideas and more.