2023 is on the horizon, bringing ample opportunity to refresh your home aesthetic. Before you start stripping wallpaper and pulling up carpet, take a look through some of the predicted tile trends for the new year. Some are glamorous, some intriguing, and some might surprise you!
Colour Techniques
Colour blocking is a fantastic way to go bold, as it involves pairing two or more bright colours to create a dynamic, instantly eye-catching look. Many designers use the colour wheel to find the most striking contrasts, but colour blocking can also be practised with subtle or pastel shades, creating a different aesthetic.
For example, our Terrazzo range features lovely plain tiles, modelled after Italian styles in gorgeous pinks and greens. The overall effect is bright and summery, employing the optimistic character of two of the most popular design shades.
Chess-Style Chequerboard
Terrazzo actually ticks two boxes for upcoming tile trends. Not only does it work well for colour blocking techniques, the contrasts make for effective chequerboard flooring. This timeless style no longer needs to be monochrome, especially with pastel shades available.
Terrazzo plain tiles work well with their patterned equivalent, which boast a Venetian-style design characterised by chips of bold colour. A chequerboard of patterned and plain looks lighthearted and utterly beautiful, whether you're using it for a kitchen, hallway or bathroom. Alternatively, you can indulge in the classic black and white design, using our Dolce/Amazonia Chequer Porcelain. Combining two of our favourite ranges, this product gives the impression of simple, charming elegance.

The Feel Of A Place
We're used to choosing tiles to please the eye, but textures have started to become a matter of interest to designers and you'll see them scattered throughout the tile trends of 2023. Patterns are ideal for creating accent walls, which stand out from the rest of the room and instantly attract attention. They're all the more effective when combined with raised textures, such as our exotic Castello Aztec Lappato Porcelain. The colours fit any aesthetic, ranging from black to musk, white and almond, while the intricate pattern is a real statement. With two different finishes and the engraving, you won't find a more striking or mesmerising tile.
Out Or In?
An outdoor/indoor space has been a must-have throughout 2022, with many people creating a living space outside. This phenomenon has prompted a wealth of new tile trends, including using large format tiles to create a seamless transition between in and out. For instance, Provence tiles offer a classic limestone effect inside and outside, with a special anti-slip finish on their exterior product. Similarly, the Capri range can be used inside and out, with an extra-smooth, non-slip surface in white, grey, anthracite or beige.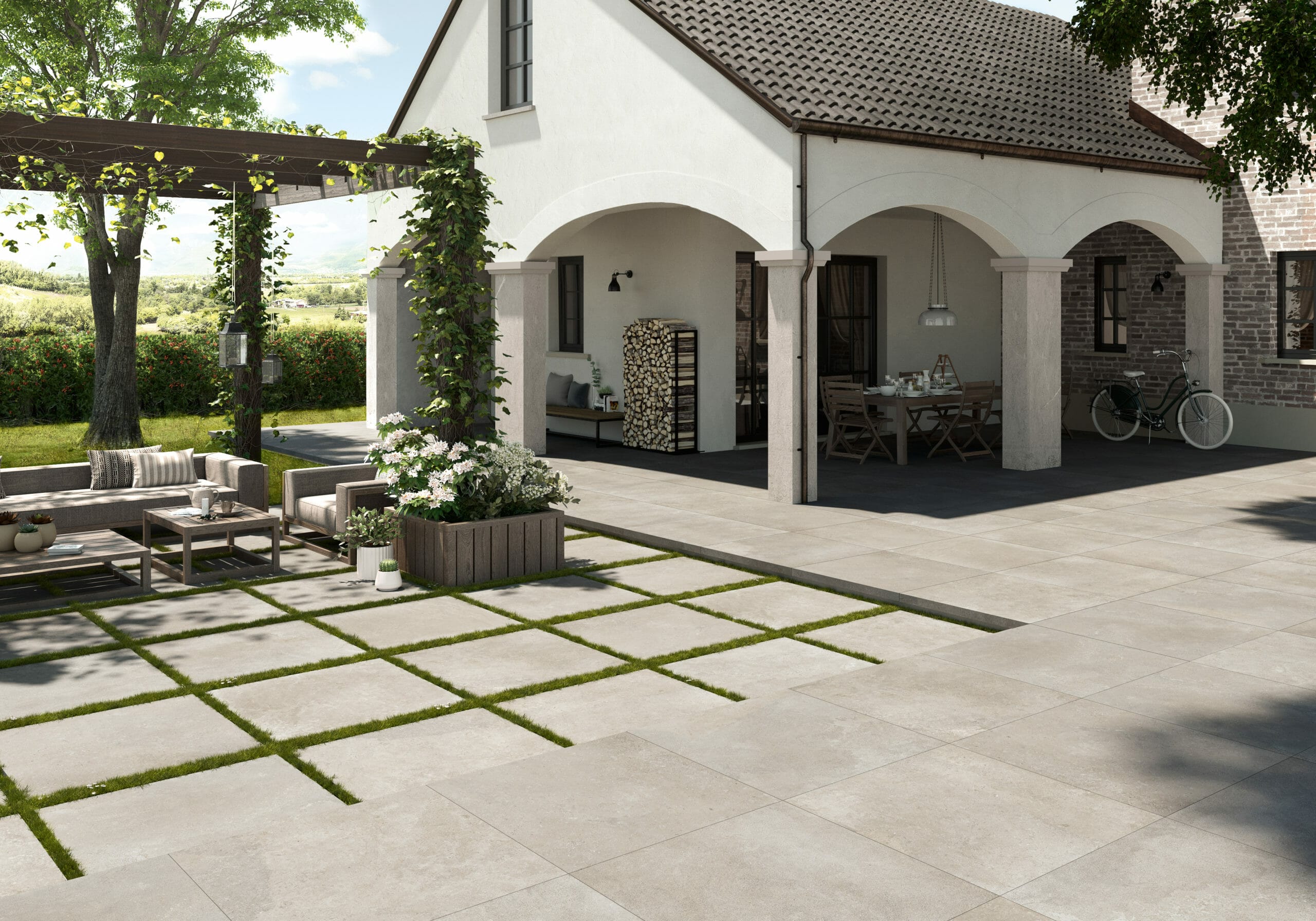 Marble Tile Trends
Marble always makes the list of top tile trends, although in new ways and with new colours. 2023 brings a fondness for opulent gold touches, creating stunning bedrooms, kitchens and living rooms. Our new Calacatta Gold Honed Marble is made up of muted whites and greys, shot through with these desirable warm gold tones. Smooth and welcoming, this tile is luxurious but colourful, available in bricks for creative layouts and striking features. For a traditional monochrome marble, you can always indulge in our Alanya range, which pulls off whites and greys with flair and elegance!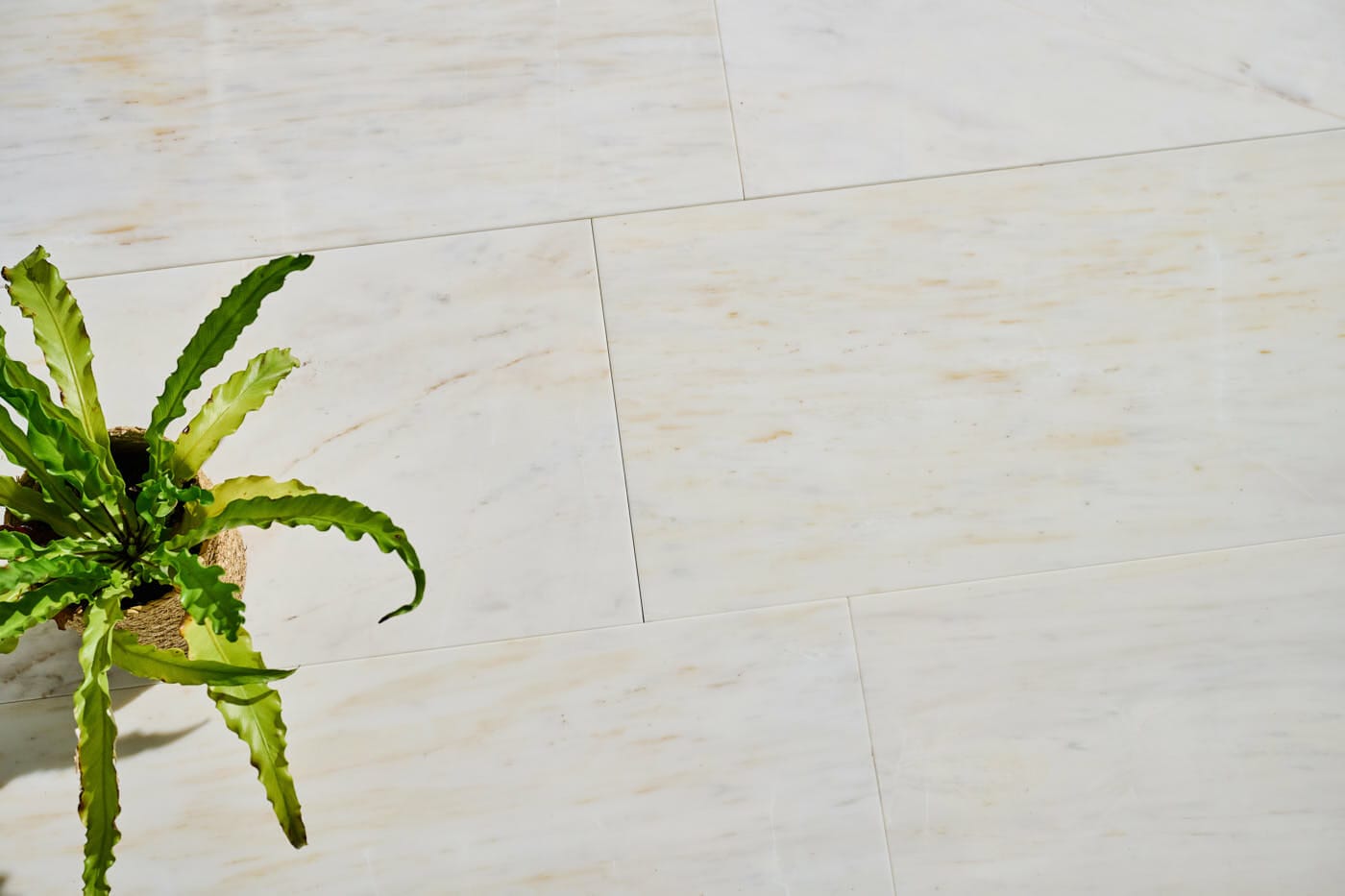 Large Format Tiles
Finally, after discussing colour, material and texture, we turn to size. Large format tiles are very much in vogue, especially for marble products. These tiles create a sense of spaciousness, with fewer grout lines to interrupt the striking details woven through the stone. Some of our products also come with a bookmatch option, with adjoining tiles arranged so as to mirror those stunning effects.
Our Vena D'Oro Porcelain is inspired by warm-looking marble, reincarnated on a bigger scale with a 1000mm x 1000mm tile. Cutting-edge technology has created the appearance of a 3D surface, adding an intriguing element to its white background and golden and grey veins. Similarly, our Geneva Polished Porcelain imitates the character of different marbles, adding style to any environment in the impressive large-format tile.
However, if you want to convey real opulence, our Onyx Polished Porcelain is the obvious option. A large format tile showcases the real luxury of this material, mimicking the translucent quality, hidden strata, rich colours and seductive, artistic beauty of natural onyx. This selection is a work of art.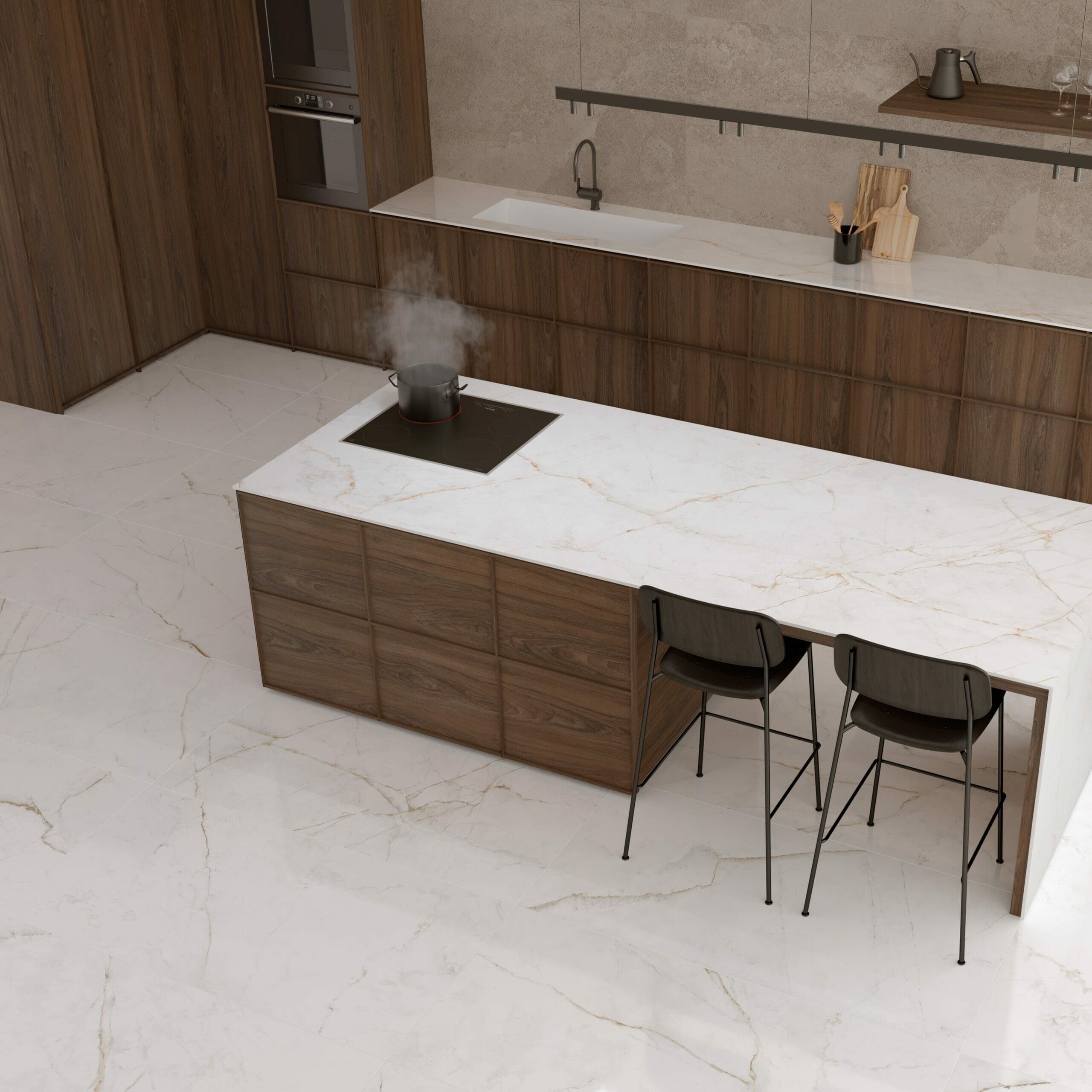 Browse Our Website
Discover our on-trend tiles by browsing our website or by viewing them in person at one of our showrooms.
We also showcase our tiles on Facebook, Instagram, Twitter and Pinterest, so follow us for offers, design ideas and more.