At Terzetto Stone, we understand that choosing the perfect tiles for your space is a journey of discovery. That's why we've created a network of showrooms that not only display our stunning natural stone and porcelain tiles but also offer an immersive experience that goes beyond the usual shopping trip. Join us as we take you on a tour of each tile showroom, each a treasure trove of design possibilities.
When buying tiles, we understand you need to see them in real life, touch them and put tiles together to help you decide on different design choices. This is something you can do in our showrooms with the support of our expert team.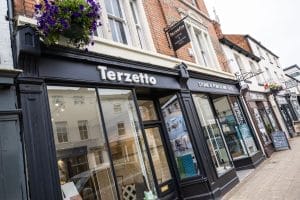 In Yorkshire we have a tile showroom along with our head office and warehouse.  Here, we have free parking so you can explore our exquisite tile collections at your leisure. Inside, you'll find an extensive range of displays showcasing both natural stone and porcelain floor and wall tiles. These large display panels provide you with a visual feast, helping you imagine the finished look in your own home.
This stunning space is located in the heart of this historic town and is ideal for anyone seeking to transform their space with the beauty of Terzetto Stone tiles. Take an up-close look at the extensive displays to see how these tiles can transform your floors and walls.
Our St Albans tile showroom is nestled in the heart of Hertfordshire in the lovely town of St Albans. There are two floors of stunning displays that offer a glimpse of the future of tile design, featuring a wide range of displays that offer inspiration and an opportunity for tactile buying.
Our Cheshire-based tile showroom is located in the picturesque town of Knutsford. If you're reluctant to make an online purchase, make more of an informed choice by visiting our showroom where you can see and touch our tiles in person and gain valuable insights from our knowledgeable team.
Our Oxford tile showroom opened in February 2022 and is just outside the city centre in the beautiful suburb of Summertown. We have a large showroom where our knowledgeable staff can guide you through the tile collections on display.
If you can't make it to our showrooms, we bring our beautiful tile ranges to you at the National Self Build & Renovation Centre in Swindon. You can view a sample of our collections here or visit during one of the regular events.If you'd like to meet with us at the NSBRC, please give us a call and we can arrange a suitable day to meet you.
Take Advantage Of Our Team
Each of our showrooms is not just a space to purchase tiles; it's a haven of inspiration and expertise. Visiting us in person allows you to connect with our team, receive expert guidance and explore our extensive range of products. It's a chance to experience the quality and beauty of our tiles firsthand. Our knowledgeable and supportive staff are eager to help you explore our tile collections and guide you through the design process.
One of the unique advantages of visiting a Terzetto Stone tile showroom is our ability to provide you with a quote based on your plans. Our team can also specify all the sundry materials you'll need, from adhesives to grout, ensuring a seamless and convenient experience. Whether you have a clear vision in mind or are seeking inspiration, our team is here to help with a wealth of both local knowledge and industry trends. You can take home tile samples or even pick up a brochure.
Plan Your Tile Showroom Visit
Whether you're looking for tiles to transform your home or simply seeking inspiration, our showrooms are designed to offer an immersive experience. With large display panels that provide a visual feast of design possibilities, you can truly see how our tiles will look in your space.
To take your first step on your design journey, visit a Terzetto tile showroom, request a brochure, or explore our website. We also showcase our tiles on Facebook, Instagram, Twitter and Pinterest, so follow us for offers, further inspiration and more.