Patterned tiles make a statement. They can be bold, subtle, quiet or colourful, creating a specific mood or atmosphere. This unique element is very 2023, as we see designers celebrating personality through different interiors. On the other hand, it can feel risky to be inventive with your design choices – will these tile patterns still be trending ten years from now? Or twenty?
There's good news from the design world. Patterns have been 'in' for hundreds of years, and are set to be in style for a long time yet. You can embrace decoration without fear, enhancing your home with beautiful motifs!
Using Tile Patterns
How can you use tile patterns to their best advantage?
Patterns instantly add interest to a room, making them ideal for directing focus. If you have a particular feature you want to emphasise, you can tile the area with beautiful decorative pieces. This might be an area around a fireplace, or a set of wall tiles behind a stove or kitchen counter, making a practical but enchanting backsplash. This is an excellent choice for a smaller room, adding fascinating detail without overcrowding the space.
This is a general rule of home design – pair the busy with the simple. Plain or neutral walls contrast beautifully with accent or feature walls, where tile patterns cover a fourth wall with timeless decoration. Alternatively, opt for a darker or busier flooring, which grounds the room and gives it space. The combination creates a sense of harmony, balancing artistic patterns with a sense of calm.
The Modellato Collection
You don't have to use bright and colourful tile patterns. Subtle designs can really enhance the look of a space, especially when they match the same colour themes as the rest of the room. The Modellato collection has designs in black and white for a sleek modern aesthetic, as well as muted shades for a quieter effect, in blues, greys and earthy browns.
Our Décor Three tile consists of various greys. They tie into other neutral shades for a cohesive look, but the contrasting tones create the impression of depth and shadow. These tile patterns show grey tones in a new light, forming a subtle floor with an intriguing 3D effect.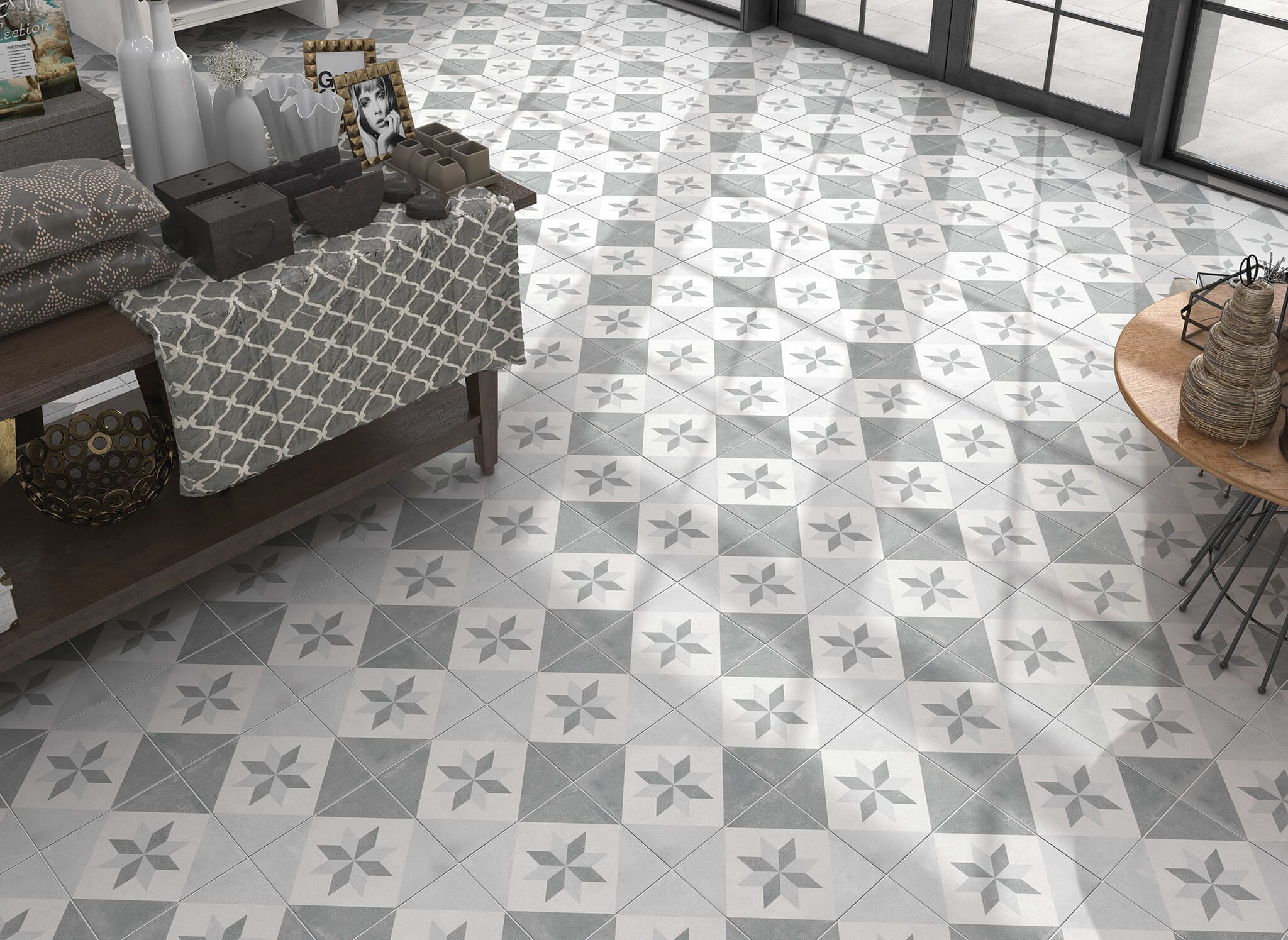 Alternatively, Modellato Décor One comes in earthy brown circles, a friendly but classy arrangement perfect for natural tones. It matches rustic woods or tones down more vivid colours, making for a good foundation for a characterful space.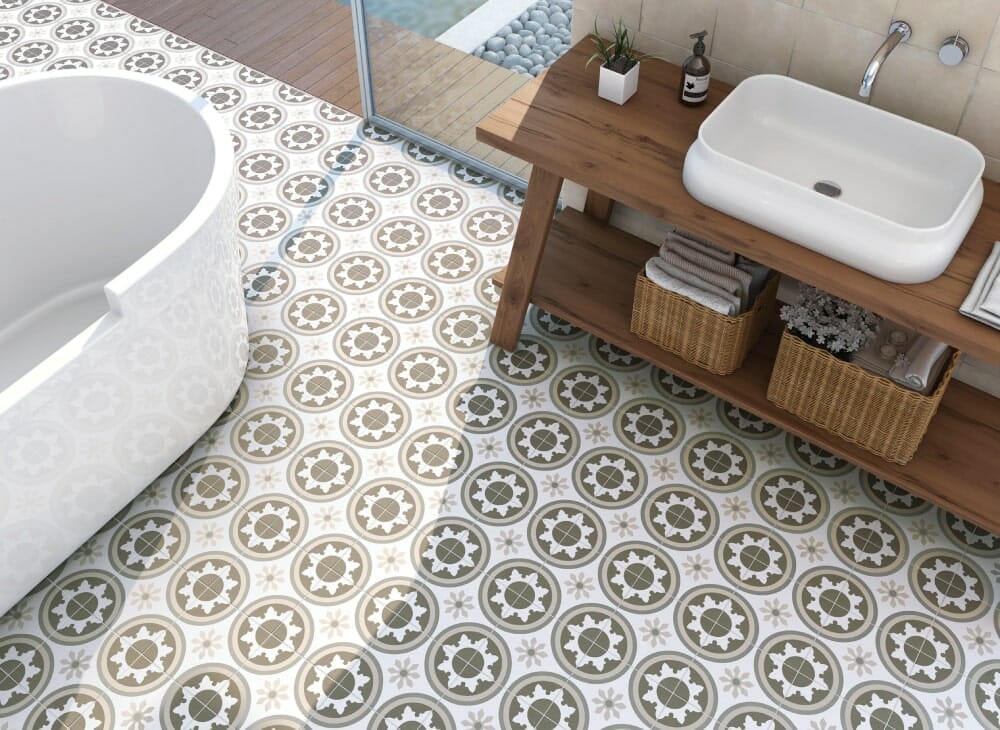 Marseille Tiles
If you're looking for class, look no further than our Italian Marseille patterns. They span modern and traditional designs, adding an instant wow factor. You can add a stunning bathroom feature with the modern Décor Two or introduce charm and elegance with the Marseille Décor Sixteen. Décor Sixteen uses white, blue and gold for a majestic, palatial look. This is perfect proof that tile patterns stay in style – the design is reminiscent of old country mansions but still looks on-point in a modern home.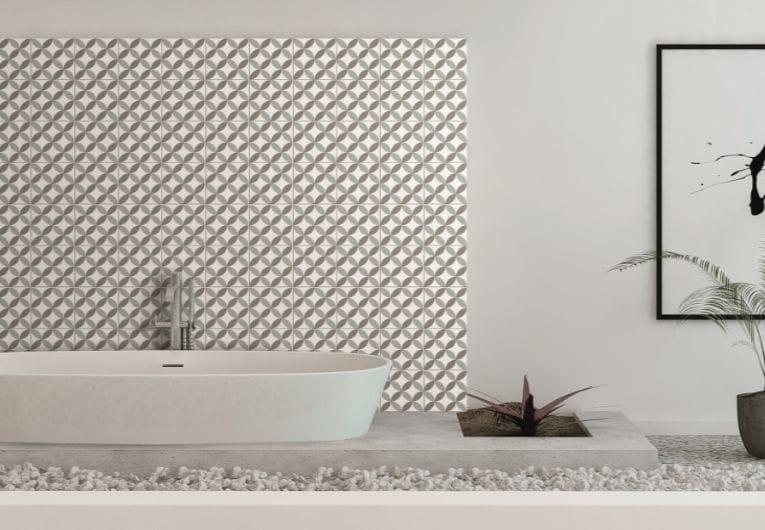 Browse Our Website
Explore tile patterns via our website! Alternatively, view them in person at one of our five showrooms!
We also showcase our tiles on Facebook, Instagram, Twitter and Pinterest, so follow us for offers, design ideas and more.