This year is all about sanctuary. It's about choosing your tile colours to create that 'no place like home' feeling. Designers are looking at warm woods, calm creams, soft, soothing pinks…
We'll talk you through the details, showing you some wonderful ways to make a haven out of your home.
Warm Neutrals
We're all familiar with neutrals, especially in black and white bathrooms. This season, we are embracing muted warm tones like beige or ivory.
These tile colours help to balance out bolder hues, while the warmer shades create something inviting and cosy. It's a subtle shift, but these new hues turn a sterile room into a welcoming, peaceful space.
This doesn't mean abandoning the contemporary look. Our new Beton Ecru Porcelain is inspired by the textures of cement, forming interiors that are calm, elegant, but above all, modern.
On the other hand, the Geneva Coast Porcelain is inspired by stones and marbles, with striking light details. This shade is perfect for tying together with tans, taupes and beiges, making a fascinating warm monochrome.

For a matching look inside and outside, you might indulge in the Capri Beige tile. It manages to be opulent and understated, with subtle textures and sandy, summery hues.
There is a way to combine modern tile colours with a more timeless material. Hexham Beige imitates a classic, old world limestone, combined with the softness of a warm neutral. This classic surface can be laid inside and outside, where the shades will be a perfect match for rustic stone and wooden seating.
Glorious Green
Designers are in love with fresh green shades! They create optimistic, rejuvenated rooms, in hues reminiscent of the natural world. These tile colours also go well with warm neutrals, an added bonus for modern designers!
Some greens are deep and forest-like, such as our Monaco Glazed Botanical Green. This ceramic tile is lush and luxurious, with a glossy finish. These small-format tiles would make a jewel of a backsplash, adding true opulence to your bathroom or kitchen.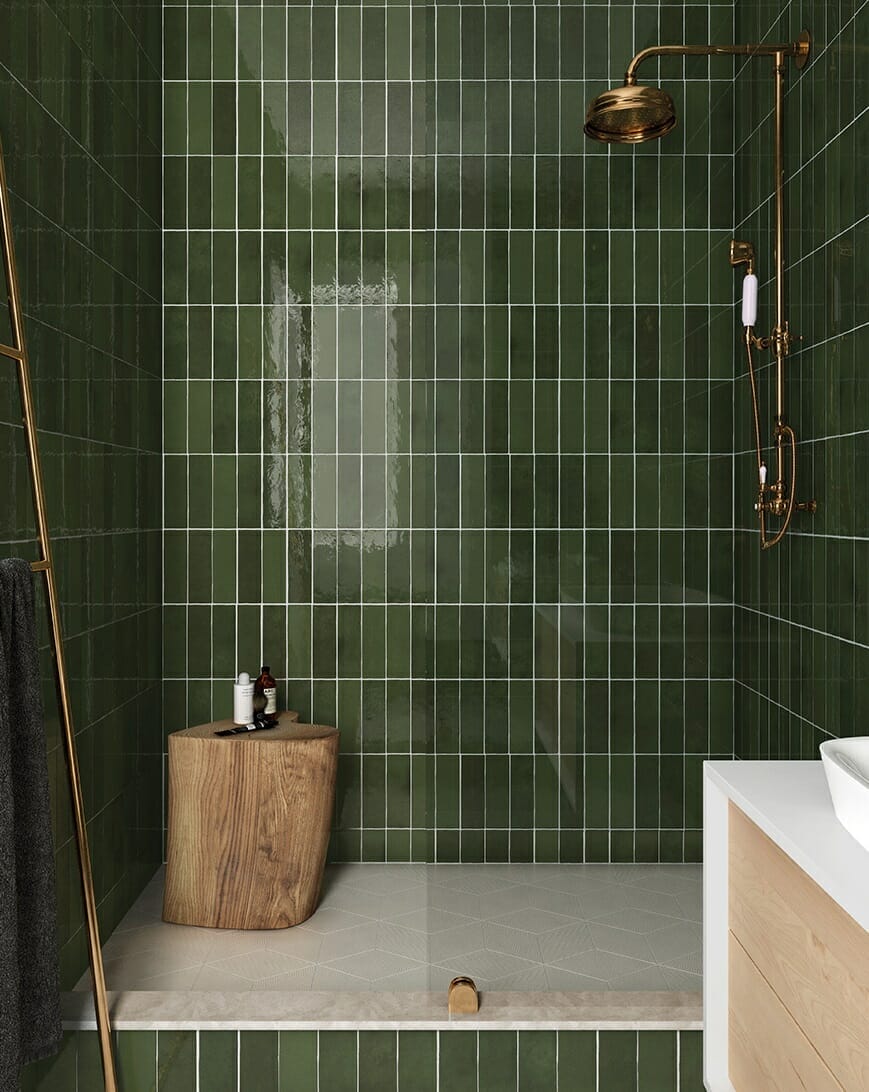 On the other hand, our Metallic Glazed Green offers something a little different, hints of green with darkened edges. The metallic sheen is iridescent, ever-changing, a glamorous way to create a new decor.
Alternatively, you could try our Venice Terrazzo Green. It's more playful than the Metallic Green, with an Italian pattern of different coloured pieces. It's engaging and characterful, with pleasant pink elements, often paired with our Venice Plain Matt Porcelain.
Tranquil Pastels
Pastels are back in style, from fashion trends to web design. As tile colours, they present a vast range of subtle and peaceful shades, pairing well with natural materials such as wood and marble. In fact, these discreet shades can be the key to making your home feel like a sanctuary.
We're turning back to the Monaco selection, not for rich greens but for something paler, like the reflective Flint Green. It displays hints of reassuring greens, while the Majorca Fern Green tile offers a curious, but more colourful shade.

Pink is a very popular colour, especially as a contrast with clean whites or light greens. The pale, flower-petal pink of the Monaco Rose is truly beautiful, calm, positive and feminine. It's similar to the Lavenda Blue tile, which continues the floral theme with something light and delicate.
These would pair well with the Monaco Milky White, although this pastel colour has enough warmth to be used independently, perhaps as a contrast against wooden floors and cabinets.
One of the current design themes is that of making a bathroom 'retreat', a place to unwind and focus on wellbeing. You could create an incredible haven with these tile colours, especially as many of them can be used for pastel walls as well as floors.
Browse Tile Colours On Our Website
Head to our website to browse our beautiful tiles. You can also speak to us in person at one of our five showrooms.
We showcase our tiles on Facebook, Instagram, Twitter and Pinterest, so follow us for offers, design ideas and more.