Create a warm sunny glow with these summer colours, inspired by the natural world!
Nature does a terrific job of lifting our spirits, reducing stress, renewing our minds and boosting creativity. It's no surprise that we want to bring its special energy inside our home, especially with these warm, sun-inspired shades!
Yellow tones have long been associated with long, sunlit days. Some theorists think humans evolved to connect sunlight with activity, which is why these yellow hues can convey energy, optimism and happiness. There's no better colour for a work or study space as it can help focus, creativity, or even productivity.
On the other hand, a bright yellow can prove intense and overwhelming. Our summer colours are more subtle; they're calm, but also uplifting.
Osaka Kit Kat Mustard Gloss
Mustard is a dark shade of yellow, a little lighter than gold. It's a must-have on-trend colour for the home, and a wall of Osaka Kit Kat Mustard Gloss tiles creates a beautiful sunset glow. The gloss finish reflects light, creating an even brighter, warmer space.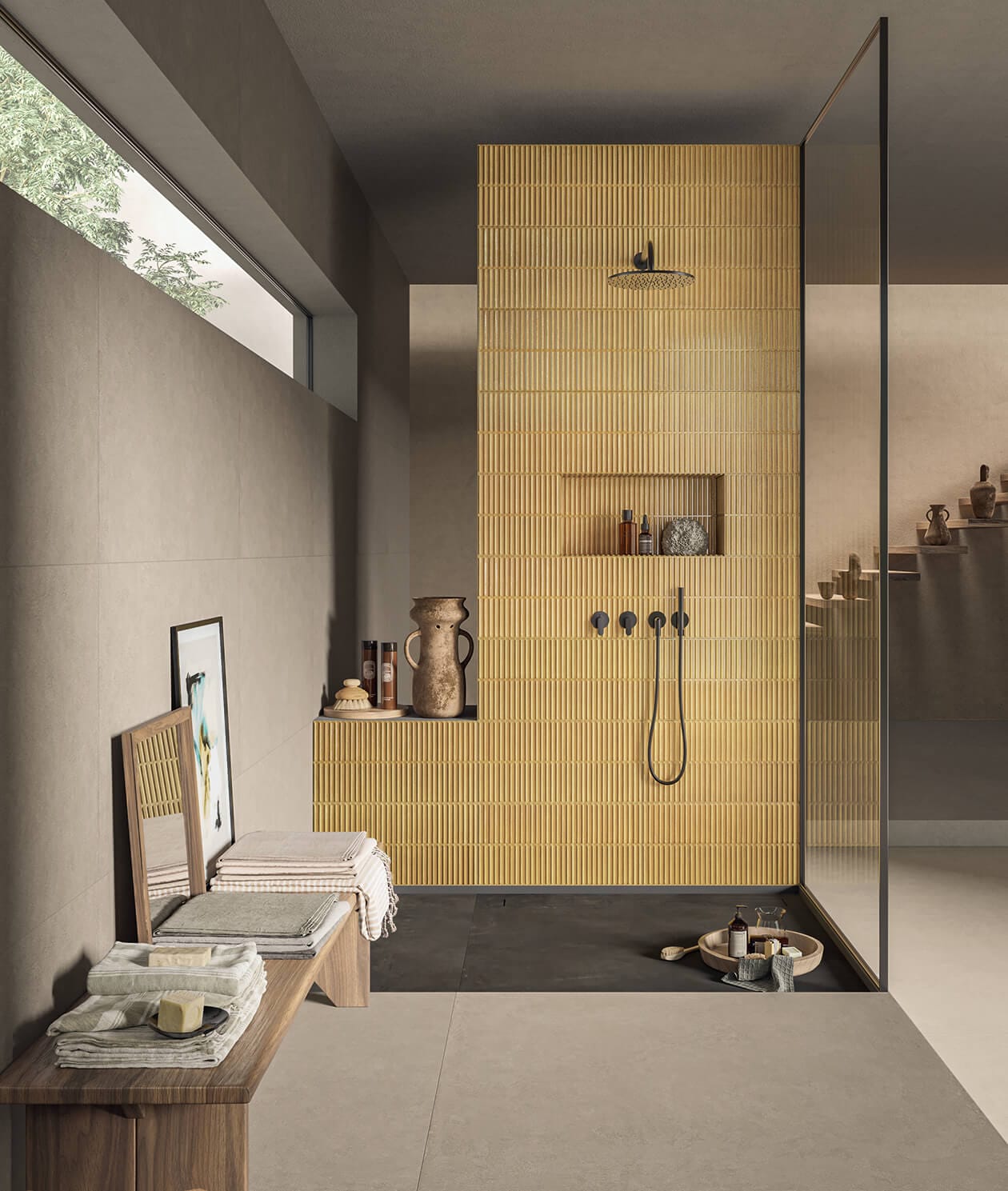 Such a hue works beautifully against a cold white or grey, balancing their cool neutral undertones. Alternatively, for a room filled with light and colour, try contrasting it with dark blue, warm green or pale pink.
The kit kat tile gives you lots of flexibility as it can be laid vertically or horizontally, covering as much or as little space as you would like. It also adds character and depth, perfect for an eye-catching feature wall.
Parquet Honey Porcelain
Wood gives you a direct connection to the outside world, with its detailed grains and unique textures. Parquet Honey Natural Porcelain has an authentic wood look in warm, inviting summer colours. The honey shades look gorgeous as the sun streams through the windows, creating a wonderful welcoming feel, ideal for an entrance or for a relaxed, modern kitchen.
Limestone Tones
These natural limestone tiles feature more subtle summer colours.
Seashell Brushed Limestone boasts cream, beige and amber hues, populated with fossilised shells. They show through a brushed surface, meaning it's been textured with wire brushes to create a distinctive, undulating surface.
Caspium Honed and Tumbled Limestone contains taupe tones, corals and creams. The warm-coloured stones have been honed, creating a satin feel, but the edges of the limestone have also been tumbled, creating an aged and natural stone look.

These summer tones are warm and gentle, and compliment so many other colour options in the home. The result is a sense of balance and harmony.
Geneva Coast Porcelain
Finally, we have the Geneva Natural Coast Porcelain. This tile emulates a mixture of stone and marble aesthetics. This is the warmest of the Geneva collection, with authentic veining and warm neutral undertones. There's also an external tile, for you to enjoy these subtle colours under the summer sun.

Browse Our Summer Colours
There's plenty to choose from with our nature-inspired shades! You can browse these summery tiles on our website or explore our Monaco collection, which is full of rich natural hues.
We showcase our tiles on Facebook, Instagram, Twitter and Pinterest, so follow us for offers, design ideas and more.