Should you use a tumbled tile? A polished one? What exactly is a honed or brushed stone floor?
You can expect to see four main stone finishes, whether you're browsing tiles online or looking through a brochure. This blog talks you through each one, from the process used to create the effect to the overall look and feel.
The Tumbled Stone Floor
Worn and aged, tumbled tiles are a favourite when it comes to rustic decor.
These tiles are gently tumbled in a large vibrating barrel containing porcelain chips, which round off the tiles' edges to give an antiqued finish. The process also lightly textures the surface, leaving certain stones looking more open.
A tumbled stone floor has soft, subtle colours, while the aged effect is especially suited to barn conversions, period homes and large, farmhouse-style kitchens or hallways. It's durable, unlikely to scratch and ideal for areas with heavy foot traffic, which explains why one of our clients covered her entire ground floor in our Madras Tumbled and Aged Limestone.
The Madras is a very distinctive example of a tumbled finish, with hand-cut edges framing sage, grey and amber limestone. It makes a statement in a traditional or period space, as the warm undertones and aged finish gives it the look of an ancient flagstone floor.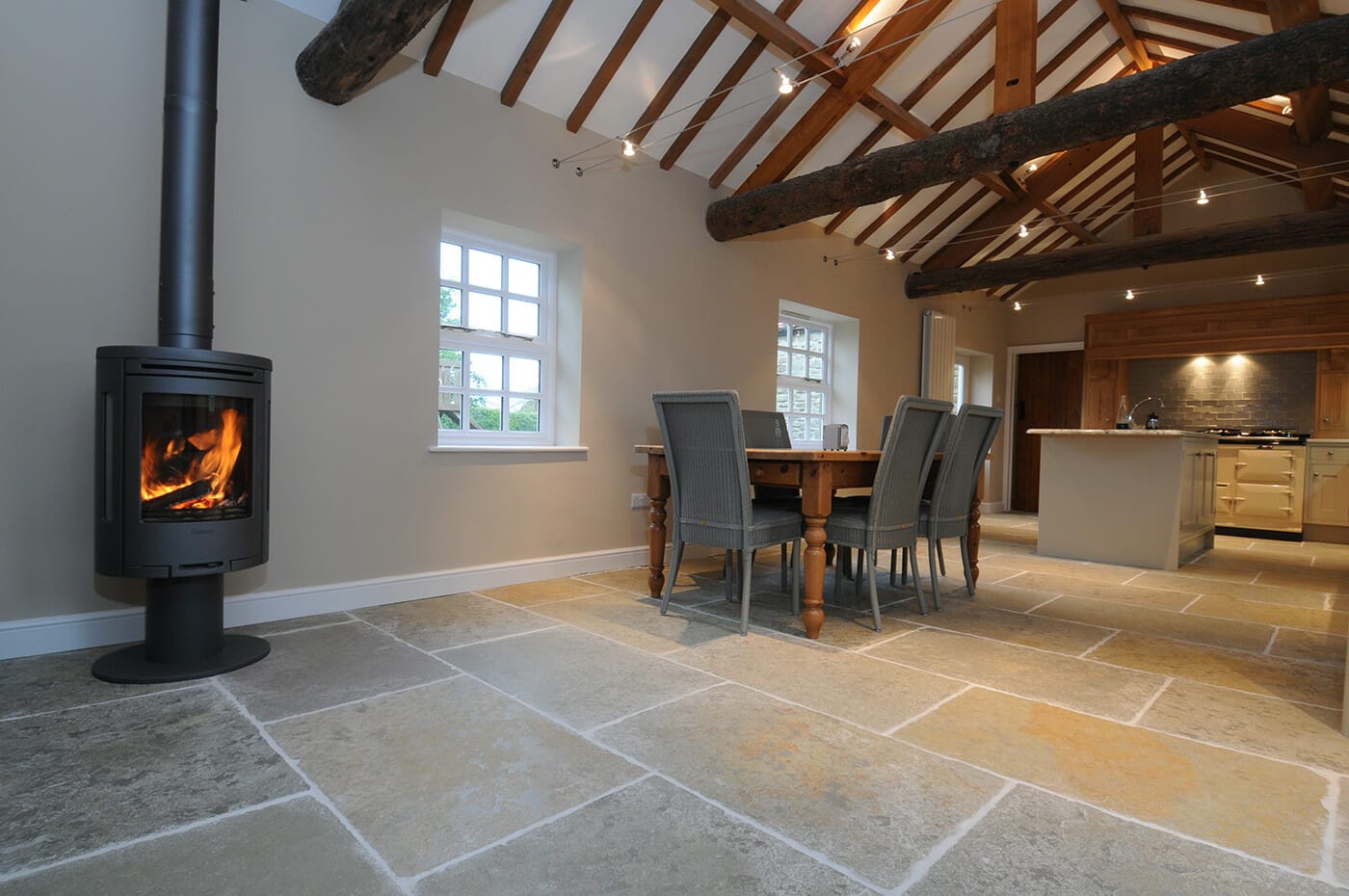 The Brushed Effect
Brushed stone also has a slightly textured surface, as well as a softened edge. Instead of being tumbled with porcelain chips, wire brushes are used to remove the softer parts of the tile surface, producing a stone that is still sleek but with more texture than a honed or polished equivalent.
Brushed tiles retain much of their original colour, as you can see in our Authentic Zorzella Brushed Limestone. This distinctive tile is full of colour variation, while the brushing process has exposed the intriguing fossils contained in the beige, grey and blue stone.
Sometimes two or more finishes are applied, with a spectacular result. This Palermo tile was brushed and tumbled, with the tumbling bringing depth to the beautiful Jerusalem limestone. The brushed surface enhances the subtle mixture of grey and gold colours, intertwined with fossils and veining.

The Honed Finish
The soft sheen of a honed stone floor offers a more contemporary look. The surface is smooth and matt, the result of passing under abrasive pads. The face is bordered by straight or bevelled edges, which fit together to create a neat floor.
Honed tiles have a simple but appealing satin feel, while their slip-resistant qualities still make them appropriate for wet areas. Our Alanya Rose Honed Marble is frequently chosen for bathrooms, the honed surface displaying a classy grey and white marbling, which looks both elegant and hygienic.

Polished Tiles
Polished tiles are in complete contrast to brushed or tumbled tiles. Instead of looking old and well-loved, these stone floors are given a highly reflective finish. Edges are cut straight, while the mirror-like surface creates the impression of luxury.
This is perhaps the most recognisable finish, frequently used in residential or commercial spaces. They're a popular choice in bathrooms, where the glossy finish reflects the light and gives the illusion of more space.
Many of our stone effects are available as porcelain tiles, which create the look of an authentic stone floor. This includes the finish, with the Onyx Polished Porcelain showing how stunning a polished finish can be, especially in conjunction with the rich colours and entrancing effects of onyx stone.
Discover New Looks
Find the perfect new look for your project by visiting the Terzetto Stone website. You can order up to four samples for free online, or else browse in person at one of our five showrooms.
We showcase our tiles on Facebook, Instagram, Twitter and Pinterest, so follow us for offers, design ideas and more.