Imagine a soft, welcoming room, clad in warm pink tiles. This is your classic pink decor, but there's a whole world of pink hues and design possibilities, from dynamic accent walls to fresh pastel shades.
Pink creates a feeling of safety and security, suggesting affection, love, positivity and style. It's definitely back in fashion, especially with the wealth of available colours, tile sizes and materials, from smooth ceramic to mesmerising onyx. No longer is pink a girly colour, unsuitable for general living spaces – it's a must-have component of interior design!
Real Luxury
Monochrome bathrooms are giving way to brighter, more colourful shades, with pink tiles proving particularly popular! Their rich shades can suggest love, compassion and self-care, so it's no surprise they're finding their way into these intimate spaces, temples to rest and relaxation.
There's one palatial tile that transforms your bedroom or bathroom space, imbuing it with a sense of absolute luxury. Our Onyx Porcelains mimic real onyx, with fascinating layers of translucent pink, majestic stratas and traces of different hues. It's truly impressive, a piece of artwork to gaze at in a spa-like bathroom. However, the delicate shades are also gentle, intimate and welcoming!
Some designers prefer to follow a 'less is more' principle, assigning onyx tiling to an accent wall or a highlight, creating a small area to draw the eye. This can add a real touch of class to a bedroom, bathroom, hall or living space, but our Onyx Pink Polished Porcelain is also available as a large format tile. If you want to create a truly amazing room, uninterrupted by grout lines or breaks, opt for our stunning large format onyx. It will take your breath away!

Mixing And Matching Pink Tiles
Such a flood of pink can be dazzling, but it can also be overwhelming. Try balancing out your pink tiles with another shade – for example, the colour wheel points towards blues, greens and browns as great complementary colours. A perfect example is our Venice Terrazzo Pink Matt Porcelain.

Inspired by Italian terrace floors, this tile breaks up the pink with scattered white, pink and black shapes, fitted around each other in a mosaic-type layout. Not only does this add an extra layer of interest, but these can be used in conjunction with other pink tiles, such as our Plain Pink Matt Porcelain. The smooth colour contrasts beautifully with these patterns, suitable for juxtaposed walls and floors or for a checkerboard layout. For a really fresh, optimistic look, you can contrast them with our green equivalent, generating a wonderful springtime aesthetic.
Less Is More
Sometimes all you need is a touch of pink.
Small-format tiles give you the freedom to decorate as much or as little as you wish, from a whole wall of chic metro-style tiles to a strip of colour behind the sink. To design your kitchen with maximum flexibility, browse our Regent or Catalan Glazed Pink Ceramic, small rectangles of rosy pink.
One great advantage of small-format tiles is that you can mix them with any other colour, which is where these pink tiles come into their own. The range comes in five other shades, including white, bone, pearl, taupe and grey, which can be interspersed with the pink for a design that's simple, pleasing and classy.
For a magnificent selection of colours, we recommend the Monaco Glazed Rose Ceramic. Inspired by nature, these tiles suggest the softness of flower petals, the ideal contrast to silvery greys. The coolness of the grey tones down the pink, creating a neat design of simple elegance.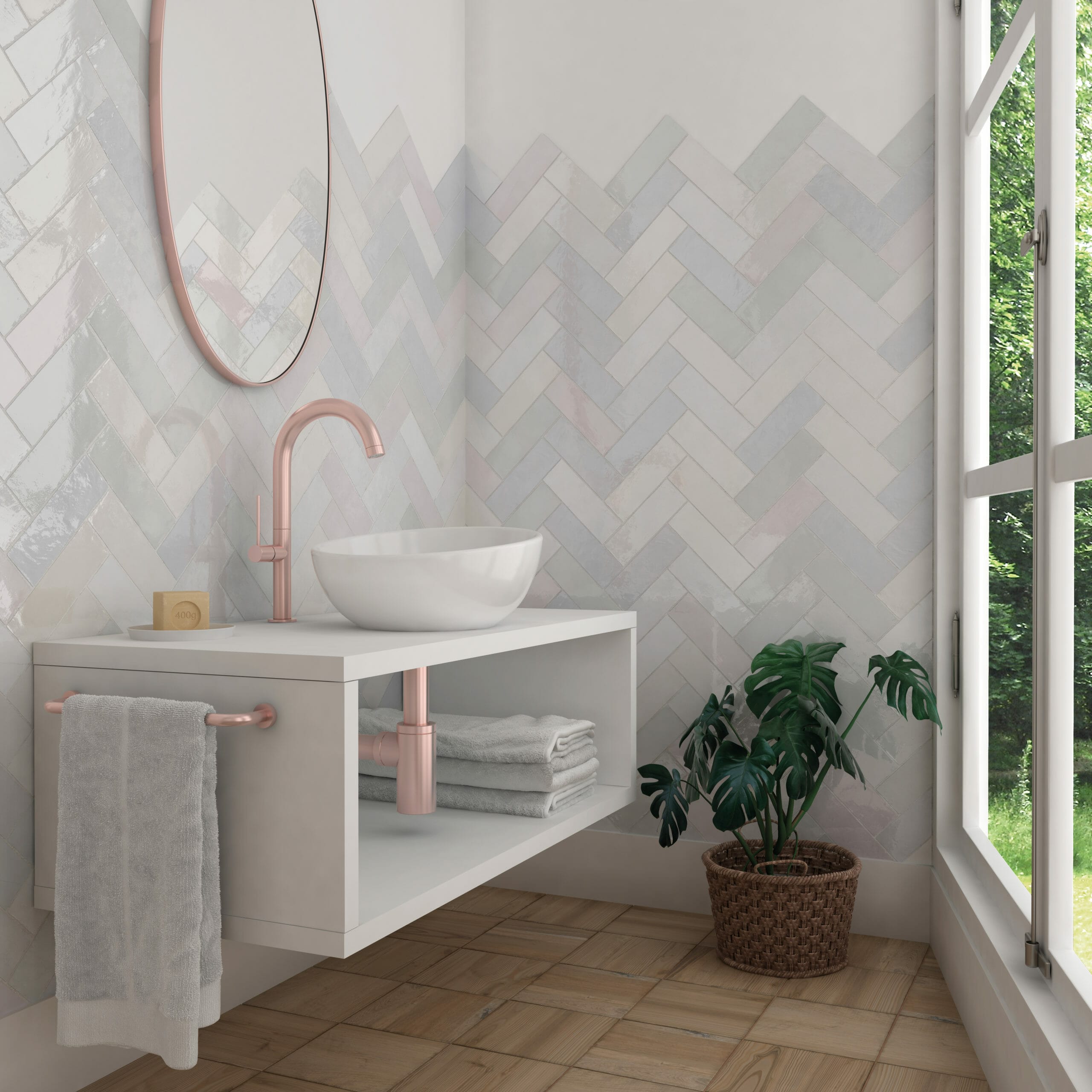 Browse Our Website
Discover these beautiful tiles by browsing our website or by viewing them in person in one of our showrooms!
We also showcase our tiles on Facebook, Instagram, Twitter and Pinterest, so follow us for offers, design ideas and more.