Big bold colours have been sweeping the design world, with a vivid magenta named Pantone's Colour of the Year. At the same time, pastel decor has become an iconic part of 2023 design.
Pastels are no longer relegated to childhood. Instead, we're using these soft, muted colours to create restful, positive or even luxurious spaces. To capture the essence of this mature pastel decor, there are some design strategies you may find useful.
Balance Pastel Decor Out
Pastels can sometimes be overwhelming, because there are no darker shades to ground them or suggest depth. There are various ways to add substance to pastel decor, such as incorporating a deeper hue into the colour scheme or by using contrasting materials.
For instance, our Majorca Glazed Fern tiles are glossy ceramic bricks in a forest-like green shade. They could act as the secondary colour in a white bathroom, perhaps as a lush shower wall reminiscent of the rainforest, or they could be grounded by a deeper green. Darker greens suggest affluence and prosperity, so this would allow the pastel element to be a glossy highlight in a luxurious design.

Greens are generally earthy, natural colours that are very much in vogue and can be complemented with a cold neutral, such as our white Majorca Glazed Milk or grey Cloud Ceramic. You could even incorporate metals like silver, which bring out the cool undertones in your pastel decor. For a warmer experience, try adding rich woods or metals like gold and brass, which bring out more yellowed tones.

Harness Natural Colours
We connect with natural shades. It makes us feel serene, rested and at peace, which is why biophilic design has taken off. Biophilic design is about increasing people's sense of connection with the natural world through architecture and design, which can be partly achieved through good use of colour.
Our Monaco Glazed Flint Green has a subtle hint of natural green. These gentle colours could take up more of the space to give a restful green background glow, perhaps tiling halfway up the walls or forming an accent wall.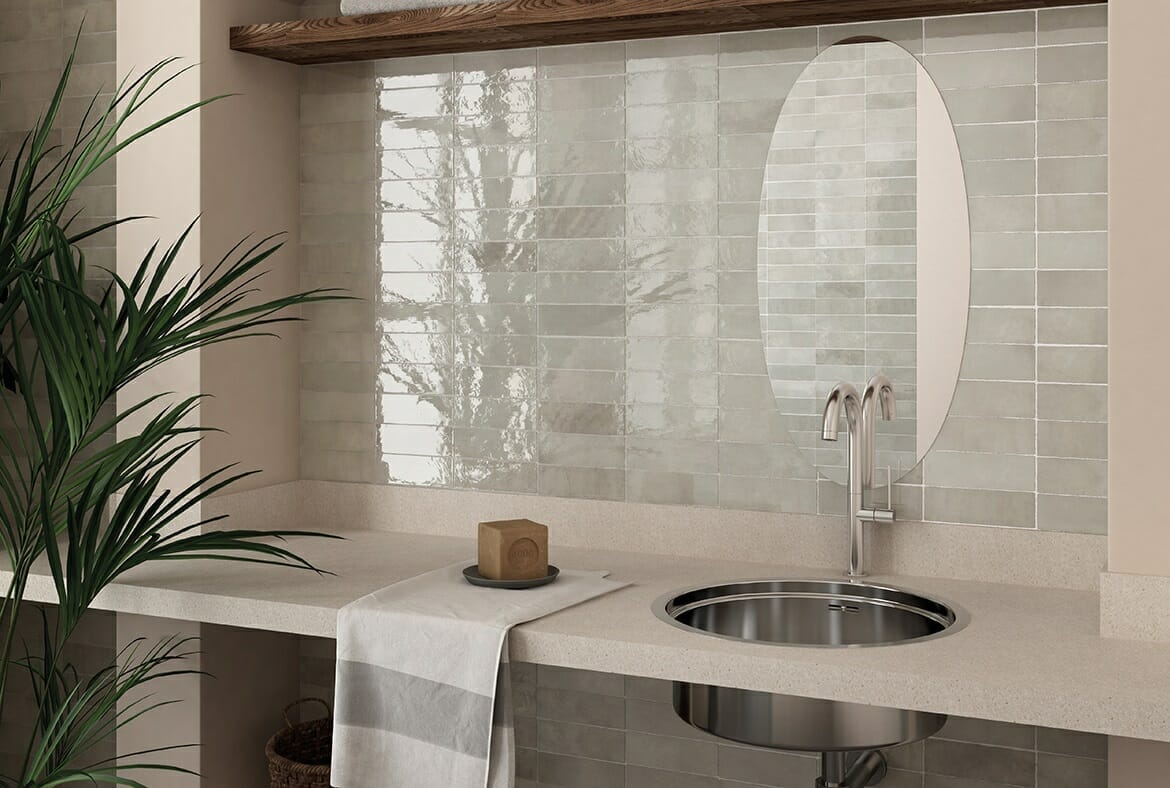 An accent wall is your opportunity to be creative. Our Monaco collection is made of small glazed bricks inspired by nature, which can be mixed together to create your own unique design. You could utilise the classic pink-and-green combination by matching the Flint Green with the Rose Pink tiles, or take advantage of the popular pink-and-blue by pairing Rose with Lavanda, a gentle blue with lilac undertones.
Experiment With Patterns
Plain pastels are a neat contrast to busy or decorative features, but sometimes pastels incorporate patterns to wonderful effect!
This Modellato Decor Two uses a blue, white and black motif that is both simple and very striking. It's a porcelain tile, meaning that, unlike the glazed ceramic tiles, it can be used on floors in high-traffic areas, grounding the room with its fresh blue and white pattern. It would suit wooden kitchen units or a panelled entrance hall, or you could use it on your walls as a charming but durable alternative to wallpaper.

Think Texture
Textures can help you create layers, turning muted colours into a sophisticated and interesting pastel decor. You can do this through furnishings or various different materials, or you can choose a wall tile with an intriguing texture in and of itself.
Our Osaka Kit Kat Tiles are a small, rectangular finger design, with a raised pattern and smooth texture. Their clean lines and soft colour palettes give you a minimalist look that suggests traditional Japanese elegance. Our Grey Matt Porcelain is a cool and dignified shade that would not look out of place in an industrial aesthetic, while our Powder Pink offers a soft, warm and mature hue.

As you can see, the world of pastel decor is much more varied than conventional walls of pink or blue! We hope you enjoy exploring these softer shades and that you create for yourselves a unique and peaceful interior.
Browse Terzetto Tiles
Would you like to see more of our excellent tiles? Head to our website, where you can browse our ranges or download our e-brochure! Alternatively, you can view them in person at one of our five showrooms.
We showcase our tiles on Facebook, Instagram, Twitter and Pinterest, so follow us for offers, design ideas and more.