Gardening enthusiasts have predicted that blurring the boundaries between indoor and outdoor decor will be one of the defining landscaping trends of 2022. As we race through spring towards the summer, we want to spend more time amidst the beauty of the natural world, whether with a book, a laptop or a glass of wine.
Add the finishing touch to your outdoor space with outdoor porcelain tiles, to create a safe, hygienic and sophisticated environment in which to spend your summer evenings.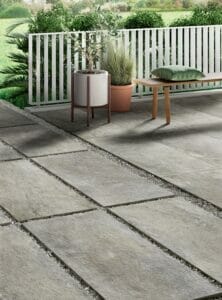 Why Outdoor Porcelain Tiles
Porcelain tiles are a type of ceramic tile, but fired at higher temperatures and at a higher pressure in the kiln, resulting in a stronger, harder and more durable product. They are easy to clean and stain-resistant as well as robust, making outdoor porcelain tiles ideal for anything from cultured al fresco dinners to messy children's parties. Your patio is a versatile space that can be a fresh air playroom, an adult seating area or simply a decorative finish to your outdoor area. 
Our Selection Of Outdoor Porcelain Tiles
Choose your outdoor porcelain tiles from a wide range of looks and shades. Stone, wood or concrete effects are just a few examples from the long list of looks we can bring to your garden. 
Our colour spectrum transitions from striking blacks, woodsy browns, sandy beiges and almonds to lighter, brighter colours, including glowing whites, silvers and golds. Your choice of outdoor porcelain tiles can define your garden aesthetic as understated, palatial or anything in between. You also have the option of using natural stone tiles to adorn your garden – scroll through our library of wonderful outdoor tiles to gain some patio inspiration! 
Pool Porcelain Tiles
We're not just talking about patios here. Porcelain tiles can provide excellent paving for the edges of your pool – indoor or outdoor! Their smooth surface is easy on bare feet and we have an anti-slip finish to make sure your swimmers and sunbathers are as safe as they can possibly be. 
Experiment with glamorous black tiles or a beachy sand colour to coordinate your preferred pool look. You can browse from our selection of pool-appropriate tiles here.
Get In Touch
Get in touch with us to plan your open-air space by calling 01423 358 855 or visit us in one of our five showrooms. Alternatively, you can check out one of our projects to generate some ideas!