Natural stone tiles last for over a century! You can enjoy a lifetime of robust, natural beauty with this decor, but how do you keep it free of so many decades of stains, fades, cracks and smudges?
A Closer Look
Natural stone includes limestone, slate, granite and marble – any stone taken directly from the ground, unlike fired ceramic or porcelain. As ancient, attractive materials, they're a common choice for kitchens, bathrooms, living rooms and conservatories, bringing rich colours and a light, airy feel. Each tile is unique and yet never goes out of style, meaning each piece adds value to your property.
Still, one of its main attractions is its longevity as it can withstand years of heavy traffic. Ensuring this durable surface starts at installation, with an initial clean and a good sealer.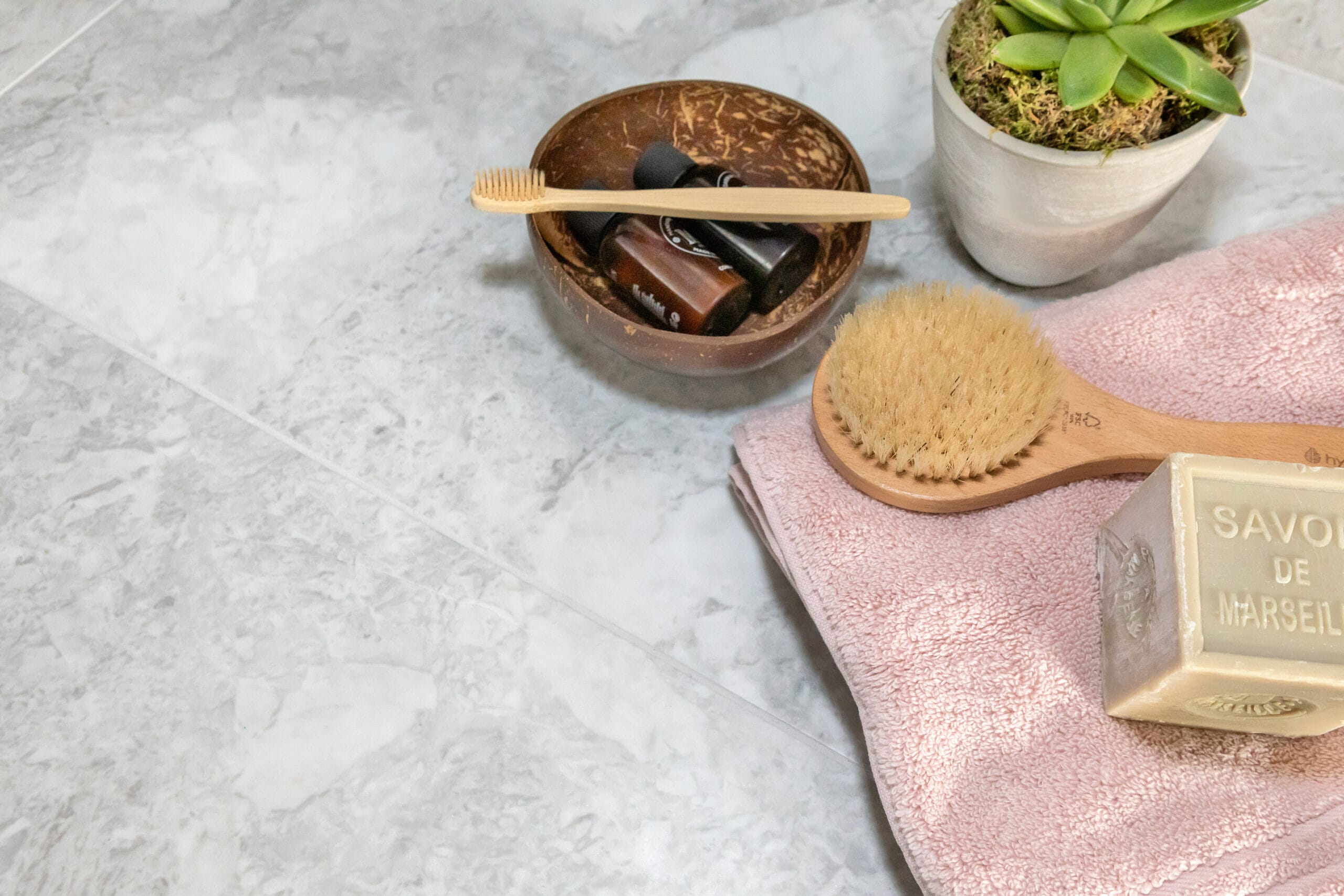 Starting Off
The biggest problem is porosity. These stones have pockets of empty space within them, allowing stains to seep into the tile where they can't be cleaned away. To combat this, you can start with an initial clean to remove adhesives, grout and dirt. Use a stone cleaner to mop away the residue, avoiding household cleaners such as bleach, whose strong acidic content could damage the tile. As a general rule, opt for a substance with a neutral pH, which will have little effect on the stone itself. If you're unsure, ask an expert – we can advise on a range of cleaners that cater to all different types of natural stone.
The second step is to introduce a sealer. This helps combat the tiles' porous nature, giving you plenty of time to clean up any stains or spills from the wear and tear of ordinary life. We have a sealer for every type of natural tile with our Lantania range, enhancing colour and repelling both water and spillages. You can even use them on outside tiles, protecting them against winter cold and wet weather.
Cleaning Your Natural Stone
Think of a white carpet. Natural stone is the opposite, as the fossils, veining and intricate textures render most dirt practically invisible. This is both convenient and inconvenient – your guests won't spot stains and spillages, but neither will you! Without cleaning and regular maintenance, dirt can become deeply embedded in the stone.
There are two ways to protect your stone surface. The first is to be on the lookout for any mess, mud or spills, especially as some substances have acidic content, damaging the sealer and risking the stone underneath. Grab a cloth from the sideboard, rinse it in warm water and wipe it away, as soon as you see the mark. It's not difficult, but getting to it quickly is important.
Regular Maintenance
The second point is regular maintenance, for which you will need a suitable, non-aggressive cleaner. Lantania Detertwins is a universal, neutral detergent and a gentle cleaner for all types of natural stone. However, we also offer an alkaline and acidic solution for the needs of various different stones. Get in touch for our professional opinion – it's not worth risking the wrong the cleaner! Anything wet can be dealt with via our cleaner products, while a vacuum or sweep will remove dust and dry dirt.
Finally, keep an eye out for ageing sealers. Should a drop of water soak through to the stone, your tile is in need of resealing, a simple process that you can perform yourself!
Browse Our Website
Head to our website to browse our sealers, cleaners and natural stones! You can also speak to us in person at one of our five showrooms.
We showcase our tiles on Facebook, Instagram, Twitter and Pinterest, so follow us for offers, design ideas and more.