Do you love the luxury of marble tiles? The way they enhance a room and create a sense of spaciousness? You're not alone, but many people think this needs to go hand-in-hand with the opulence, polish and sleek modernity for which marble is famous, especially when combined with glossy black to form a cold, elegant monochrome.
However, marble tiles have an intriguing flip side, with honed marble offering a softer, matt look. This material has been ground down to a flat surface and left unpolished, creating a tile with a more neutral colour, less dramatic and reminiscent of stone weathered by the elements over time. Such a choice is preferable for those searching for a rustic or sustainable aesthetic. There's also a long list of design possibilities thanks to their ability to be both unifying and contrasting, with options for sweeping floors, feature walls and design flourishes.
Subtle Marble Tiles
Not everyone wants to turn their home into a movie-star's penthouse, glimmering with bright and reflective marble. Instead, they might turn to something charming, but subtle, which complements the rest of the room instead of distracting from it.
Corinthian Honed Marble Tiles pass all the tests, providing an elegant and timeless look which captivates the slight movement of muted beiges, milky whites and pale greys. If you prefer, you can opt for these marble tiles in an antiqued finish, for something worn and aged, or polished for that traditional dazzling shine. However, this tile pulls off a gentle honed finish to perfection. Each edge is cut at right angles, letting them slot together seamlessly for an attractive floor, in calm colours that go well with any colour scheme.

Looking Classy
On the other hand, our Alanya Rose Honed Marble Tiles add some brightness, although the honed finish and the grey marbling tone down the white surface. These tiles are eye-catching, bright, clean and classy, frequently used for bathrooms thanks to the antibacterial properties of marble tiles. In fact, honed tiles are generally practical as they're excellent at withstanding heavy traffic, so you can also look into using honed marble tiles for chic entrances, hallways and kitchens.
These marble tiles are also available in two different sizes, with our small rectangular tiles ideal for herringbone patterns and stunning accent walls. Head to our website for different ideas on how to create a feature wall using herringbone and chevron, both of which are enduringly popular for their attractive geometric pattern!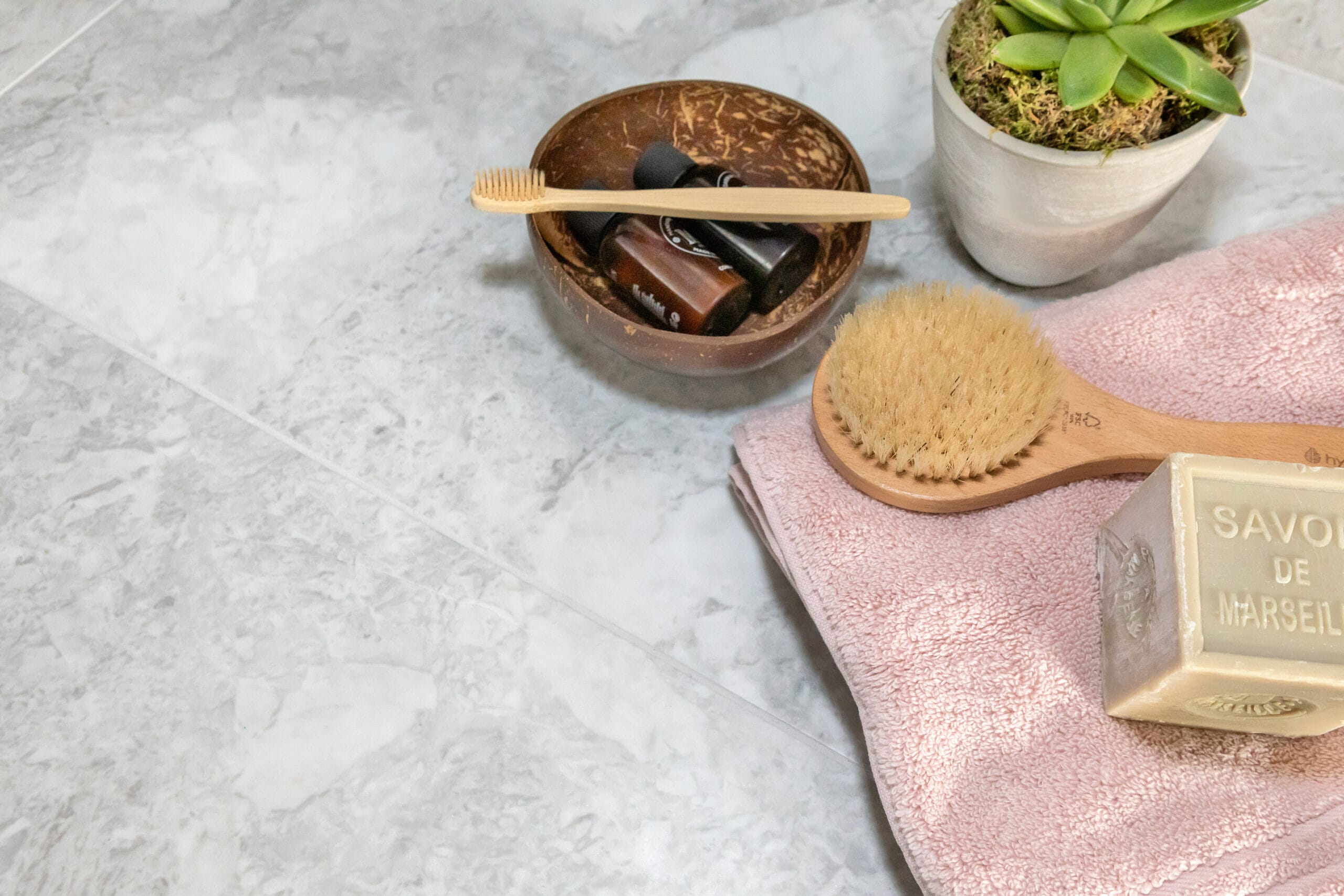 Custom Designs
You can show off your marble tiles with a personalised flourish from Terzetto! We can finish off your smooth flooring with our own skirtings fabricated from matching Corinthian marble, a service that extends to creating bespoke vanity tops, step treads and slabs. Marble makes for an intriguing pool surround or staircase – see for yourself with the Alanya Rose Honed Marble staircase, built as part of our West Beech Manor project.
Browse Our Website
Make a start on your dream home by browsing our website or viewing our marble tiles in person at one of our five showrooms! Our staff are happy to answer any questions you may have, including those about our bespoke products.
We also showcase our tiles on Facebook, Instagram, Twitter and Pinterest, so follow us for offers and design ideas.