Designing your home can be a daunting prospect. However, choosing the right kitchen tiles can send you on the right path towards a unified and attractive room, protected against the splashes and stains of muddy feet and food stains. This mini-guide will help you through the bewildering maze of tile trends and different materials while opening up the various possibilities for your kitchen. Read on!
Thinking Practically
The kitchen is often the most-used room in the whole house, so it's essential that you choose tiles designed to withstand plenty of use. Durability is one of the number one things to look for in kitchen tiles, closely followed by an easy-to-clean surface. With all the soup splashes, dropped food and spilled grease, you need a tile that can be wiped clean with ease.
Porcelain tiles are an excellent choice, with numerous designs available, including wood, marble, concrete and stone styles. Similarly, the amount of limestone used in architecture shows it to be a long-lasting, easy-to-clean stone that, when sealed, is unaffected by water spillages or heavy condensation. We can also help you to protect your limestone floor by advising you on all the right sealers, grouts and cleaners.
Kitchen Tiles And Stunning Aesthetics
Now we've dealt with the practical side, we can dive into creating a beautiful aesthetic! Kitchen tiles are vital, as the floor ties together the look of the entire room, from the cabinets to the work surfaces. You can browse an extensive range of kitchen tiles at Terzetto, as we anticipate the demands of the existing decor and your creative desires!
Many designers favour light colours, with the connotations of spaciousness, freshness and cleanliness. Marble styles often convey this sense of space and hygiene, combined with a polish and elegance that elevates the tone of the entire room. It also lends itself to monochrome, which has long been used in kitchens to create a dynamic effect.
On the other hand, natural stones such as limestone produce a truly timeless aesthetic, with the various hues and finishes adding warmth and subtlety to your environment. The diverse shades and textures of wood-look porcelain are also in fashion, offering an earthy, natural look to the modern home.
Consider which aesthetic you feel matches the rest of your home, before looking at any pre-existing furniture and their designs. It's always best to be certain before you take the first step, so don't forget that you can always get advice from Terzetto before buying kitchen tiles.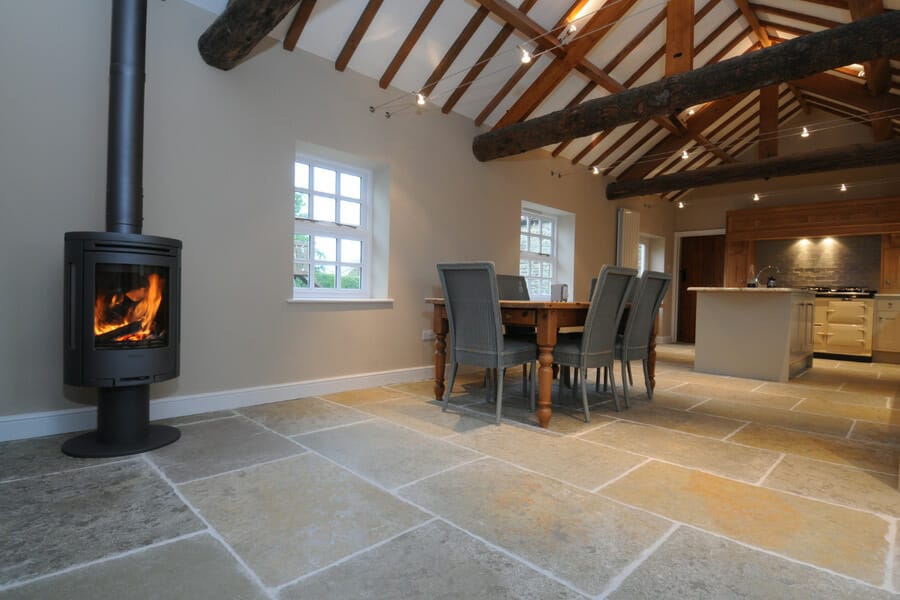 Investigating Wall Tiles
Wall tiles provide an excellent surface to protect against splashes and condensation, making them a staple in kitchens and bathrooms around the world, although cabinets and fixtures often mean there's very little space to actually tile. Many decorators use this as an opportunity to think outside the box, delving into colours and patterns that provide a point of interest.
There are a wealth of options for patterned wall tiles, from the intricacies of our Aztec-inspired tiles to our warm Castello Warm Mix and the soft swirls of our worn Fiorino Maiolica range. One last tip when choosing kitchen tiles for your wall or splashback is to match them to your cabinets rather than the floor or your worktop, as this will give you a desirable, unified effect.
Browse Kitchen Tiles
Head to our website to browse our library of kitchen tiles. Alternatively, visit one of five showrooms.
We also showcase our tiles on Facebook, Instagram, Twitter and Pinterest, so follow us for design inspiration.