Japanese design captures the imagination. It's extremely simple, but never dull or bland. We present you with our brand-new Osaka kit kat tiles, inspired by these iconic and versatile minimalist styles.
The Practical Side Of Kit Kat Tiles
Kit kat tiles are small and slim finger designs, sometimes known as finger tiles. They can be used in almost every environment as their size and shape make them very versatile and a good choice for potentially awkward spaces.
You might use them to add a refreshing backsplash or to tile a bathroom corner, as porcelain finger tiles are water-resistant and won't become discoloured by exposure to water or condensation. They can be tiled vertically or horizontally and in a great variety of colours and designs.
These tiles introduce a distinctive pattern and texture, adding a sense of depth and interest without ever being too brash. They're subtle, evoking the peaceful decor associated with Japan. That being said, they're very popular in contemporary and Western designs, such as shower walls, kitchen splashbacks or living room feature walls.
Simple And Harmonious
Our new finger tiles are named after Osaka, a Japanese city located on the island of Honshu. It's renowned for both modern architecture and traditional castles and shrines, indicating the perfect mix of tradition and innovation.
These finger tiles would be at home in Osaka, as they work beautifully with traditional Japanese design principles. For example, Japanese design favours clean lines in a neutral palette. Our white and grey matt tiles tap into this colour scheme, while our pink and clay matt tiles add a bit of colour. The stack bond arrangement emphasises straight lines and a sense of order, while the delicate textures satisfy the contemporary desire for tactile surfaces.

Kit kat tiles usually come on a mosaic sheet, which can increase the price and make them trickier to install. The Osaka range is different, as the tiles look like mosaics but come in a practical 600mm x 300mm size. This makes them easier to install and more cost effective.
Experimenting With Colour
If you wish to add an accent wall to inject a bit of colour, you can use our pink Powder Matt Porcelain as an accent wall. These tiles are very soft and can warm up a cooler colour scheme. They can be paired with fluffy cushions to create a cosy environment, or installed in a bathroom to make a truly relaxed space.

We also have a Clay Matt Porcelain, which can be paired with whites, greens, or more industrial materials. Green complements the rich clay shade, so you could add an array of plants to your chosen space.
Gloss Kit Kat Tiles
For brighter designs, we've added some more colourful options with a gloss finish.
Light interacts well with our raised and polished kit kat tiles, creating colour variation. Our Blue Gloss Porcelain has varying hues, suggesting a serene underwater environment, which is perfect for a bathroom.

Our green option comes in a lush forest shade, which will be sure to make anyone feel relaxed from the moment they walk into the room. Green is known for evoking peace, which can be enhanced by using the natural wood and stone materials common in Japanese design. It can be paired with neutrals or with white, gold or peach, as it's one of the few colours that go well with cool and warm shades.
Finally, we have a shining, luminous tile that abandons the mild palette of traditional Japanese design. Our Mustard Gloss Porcelain looks truly stunning, especially as a feature wall, the golden shades match grey, white, black and navy. Mustard is no longer relegated to 1960s 'retro' design, as shown by these fashionable kit kat tiles!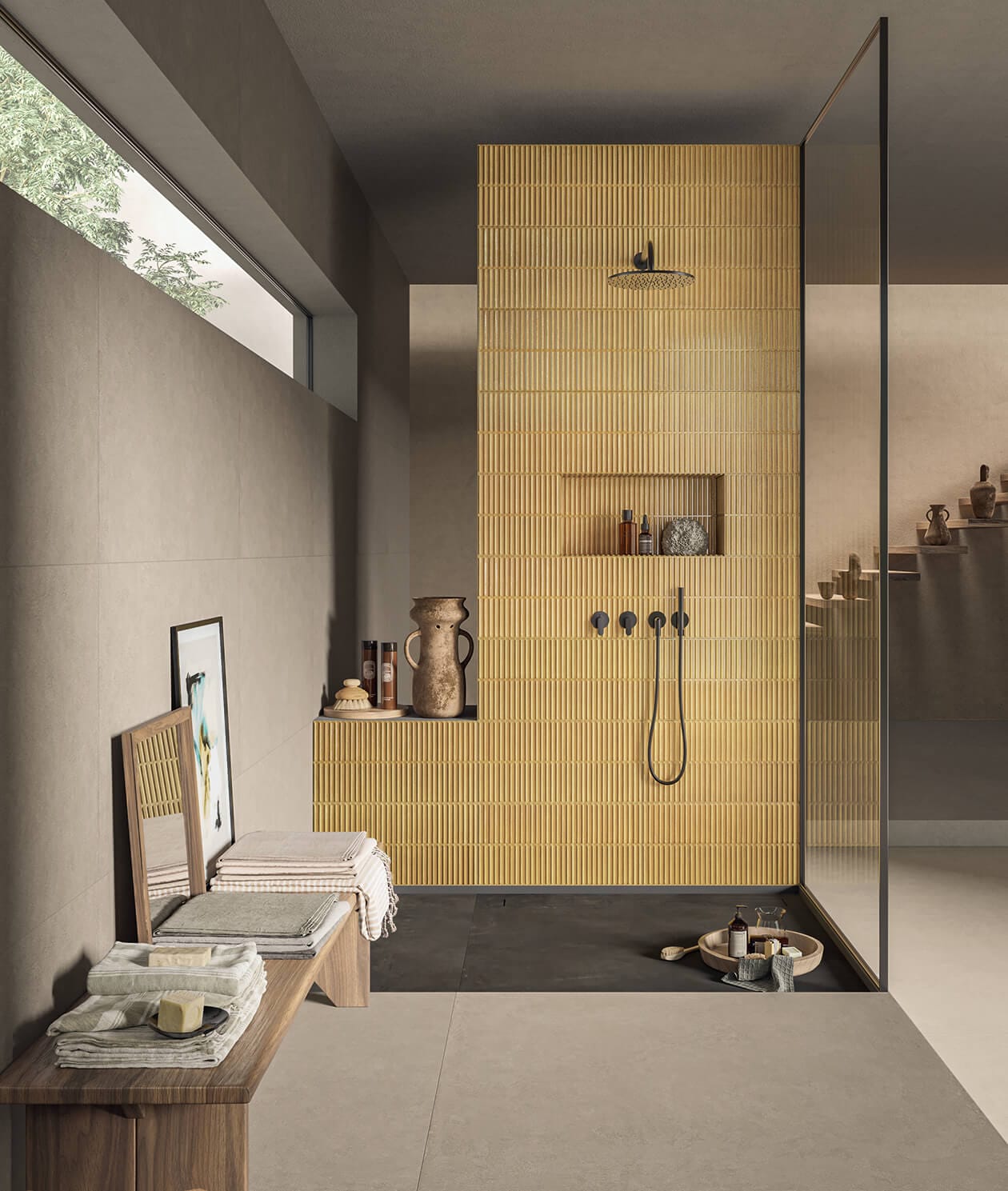 To really bring out any of these glowing colours, you could introduce a small section of white, for which our polished White Gloss Porcelain is ideal! It could be a splashback, accent wall or alcove area, the polished white contrast will be sure to highlight the brighter hues.
See For Yourself
If you're curious about how our Osaka tiles would look in your home, you can order free samples from our website. Alternatively, you can view them in one of our five showrooms.
We showcase our tiles on Facebook, Instagram, Twitter and Pinterest, so follow us for offers, design ideas and more.