We'd love to introduce you to our brand-new collection, Siena-travertine style tiles in white and ivory. These bright Italian tiles imitate richly textured stone, filling your space with a light, dignified and summery look.
The Riches Of Siena
Our Siena Porcelain is named after the Italian city of Siena, whose architecture and design is bursting with character, Gothic influence and medieval charm.
Not far from the city, a special travertine stone is quarried, a popular type of limestone with soft and earthy tones. This is one of the oldest building materials in the world, beautifully reproduced in this porcelain tile. It has the sophistication of the cathedrals and palaces that make up the old city of Siena, while the porcelain adds a new and practical dimension for a 21st century home.
Porcelain tiles add an element of luxury, perfect for the summer weather. They're safe, smooth and comfortable to walk across without shoes, while their non-porous nature protects them from the kind of staining you might expect to see with a real travertine stone. There's no need for sealing, resealing or intensive maintenance, you can just relax and enjoy the effect of these Italian tiles.
Siena White And Ivory Natural Porcelain
This particular range of Italian tiles emulates the rich veining of the original travertine, alongside the tones and sediments that appear to be constantly shifting. These details can be seen in the 1200mm x 600mm large format tile, which offers a sweep of stone design uninterrupted by grout lines.
Large tiles such as this are excellent at making a small space seem larger, especially when aided by light colours. Siena White uses classic pale shades to reflect light and make the space feel more open and airy, ideal for achieving the feeling of a cool Italian courtyard or atrium.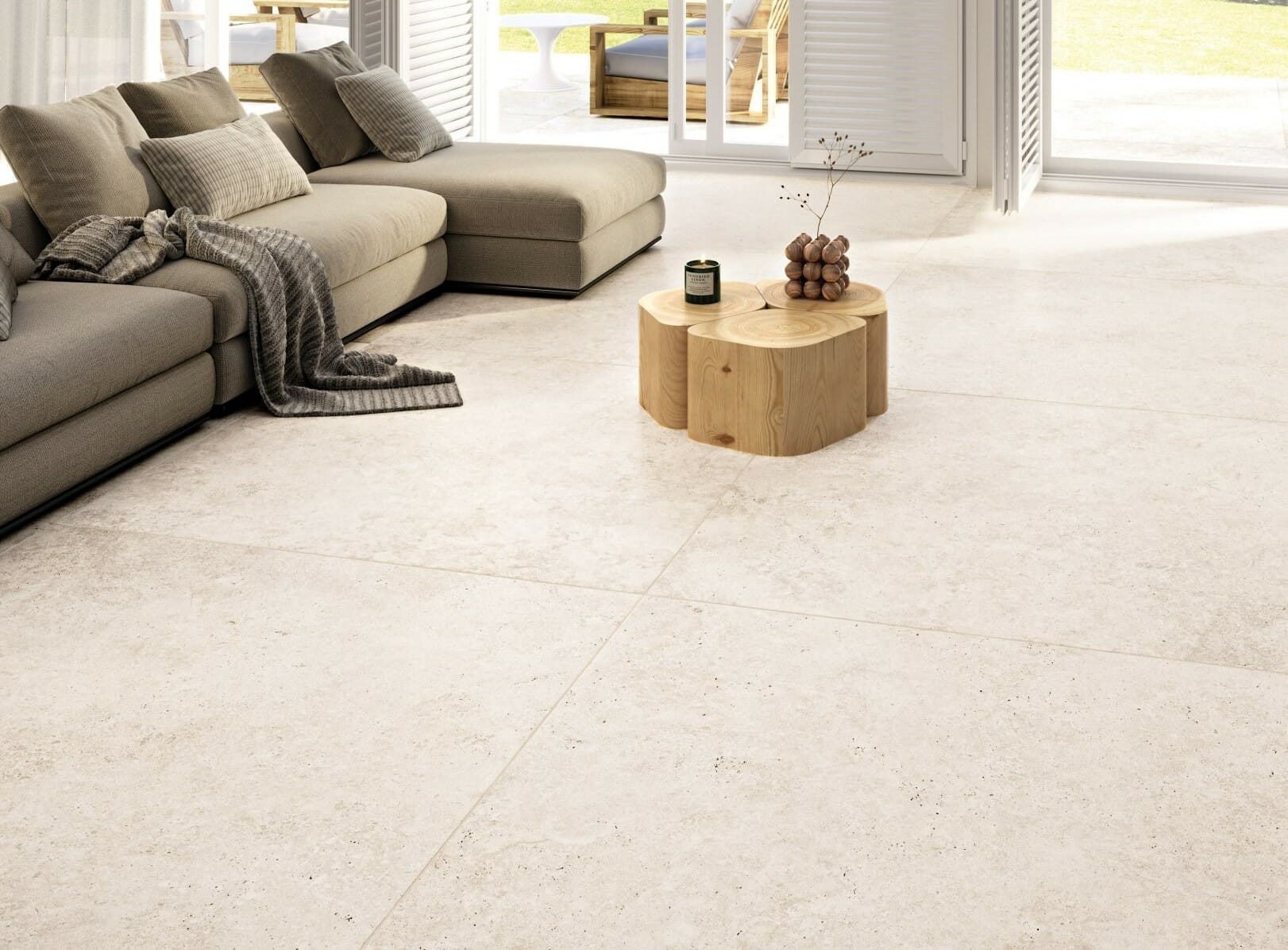 Siena's second shade is a creamy ivory, channelling the warmth of the Golden Hour. Golden Hour aesthetics embrace the feeling of the setting sun after a long summer day, often evoking coastal landscapes and seaside holidays. Siena Ivory accomplishes this very subtly, with a gentle warm neutral that is appropriate for all times of day, not just the sunset.
Creating Transitional Spaces With Italian Tiles
These Italian tiles come with matching 20mm exterior tiles, helping you to follow the recent fashion for continuous and transitional spaces.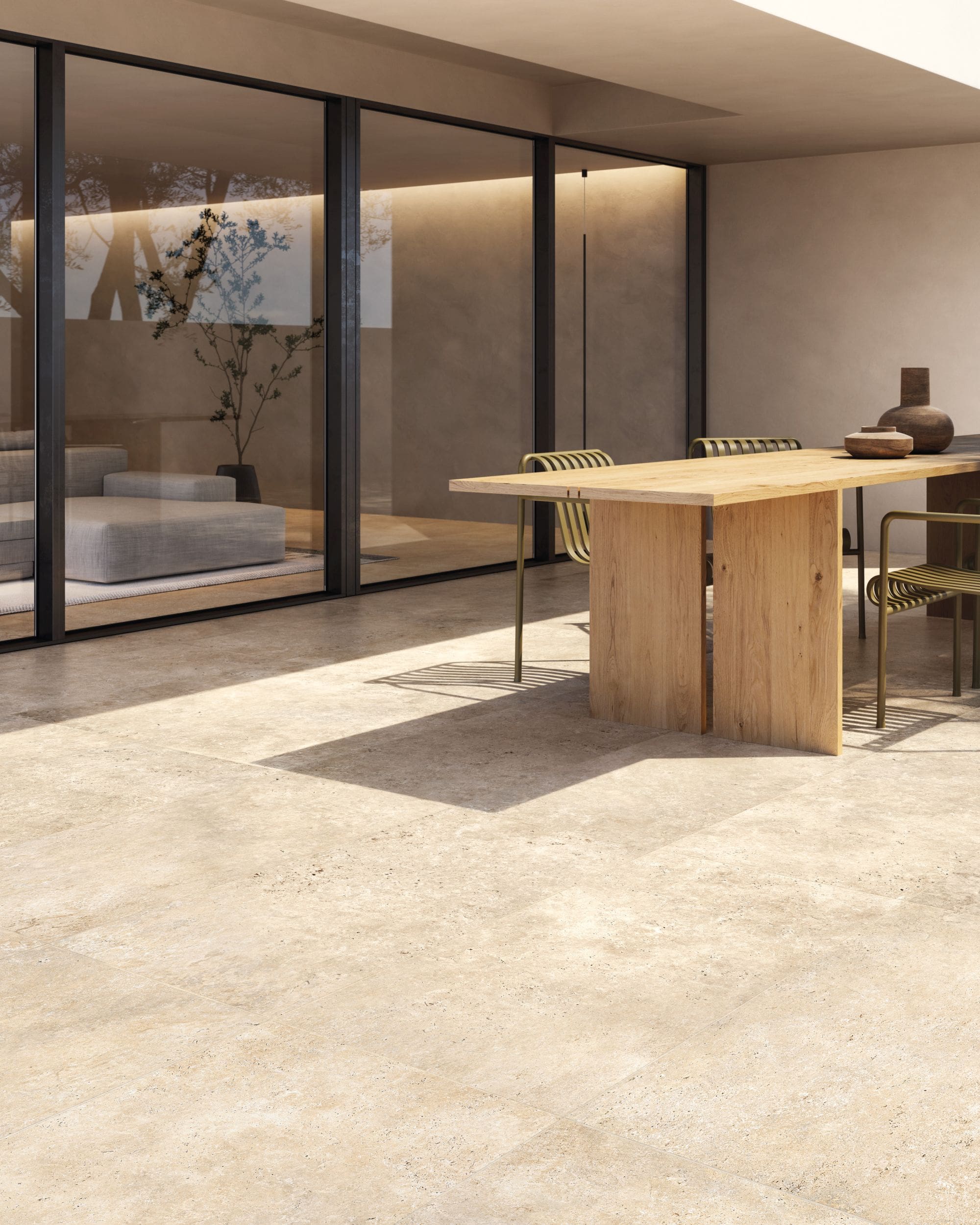 Continuous spaces use the same design inside and outside the house. Instead of defining the garden as a place for plants and the occasional garden chair, parts of the home start to move outside. Your Italian tiles become a background to outdoor kitchens or living rooms, while outdoor fireplaces and barbecues make these spaces a wonderful place for al fresco entertainment.
Similarly, you can use your Siena Porcelain to create a transitional space, a place situated in between the inside and the outside, such as an enclosed family room with only three walls, or a room with the fourth wall sealed off by a floor-to-ceiling window. A transitional space creates an open-plan look, while the nature of these large format tiles makes the area feel relaxed, cohesive and welcome.
Part of Siena Porcelain's popularity is down to its timeless simplicity, bringing a Tuscan city feel to your fashionable 21st century home.
Browse Our Siena Porcelain
Our Siena tiles are all available on our website, alongside other fascinating stone-effect tiles. You can order up to four samples of these Italian tiles online for free, or view them in person in one of our five showrooms.
We showcase our tiles on Facebook, Instagram, Twitter and Pinterest, so follow us for offers, design ideas and more.