An industrial interior is perfect for a pared-back, loft-style space.
These designs are the opposite of fussy, rejecting any kind of clutter in favour of a bare-bones look. Instead of hiding walls behind paint and wallpaper, designers shine a light on exposed brick, distressed wood, metals and glass.
These designs are known as industrial because they were originally used in repurposing factories and warehouses as funky living spaces. Decorators embraced original materials, incorporating leather, untreated beams, steel… even ordinary concrete became a design statement!
Smooth Concrete Floors
Concrete brings that smooth industrial interior feel right into the centre of a room. It's also on point for Scandi designs, which prioritise the same clean lines and neutral walls, emphasising a simple, 'less is more' approach.
Concrete is often used because it looks practical. However, a concrete floor brings its own difficulties, such as cracking and staining, while the environmental impact makes it anything but sustainable. Fortunately, manufacturers can create the same hues and textures on porcelain, a durable, stain-resistant alternative. Terzetto has many porcelain tiles with a concrete effect, such as our Moderna or Urban Porcelain, available in white, grey, bone, taupe and black.
However, we want to introduce you to our brand-new Beton range, a porcelain tile inspired by craft-based cement. It has an authentic texture and a soft-touch, hygienic and easy-to-clean surface. You can even take it into the garden with matching exterior tiles, or pave a balcony for a neat, outside area.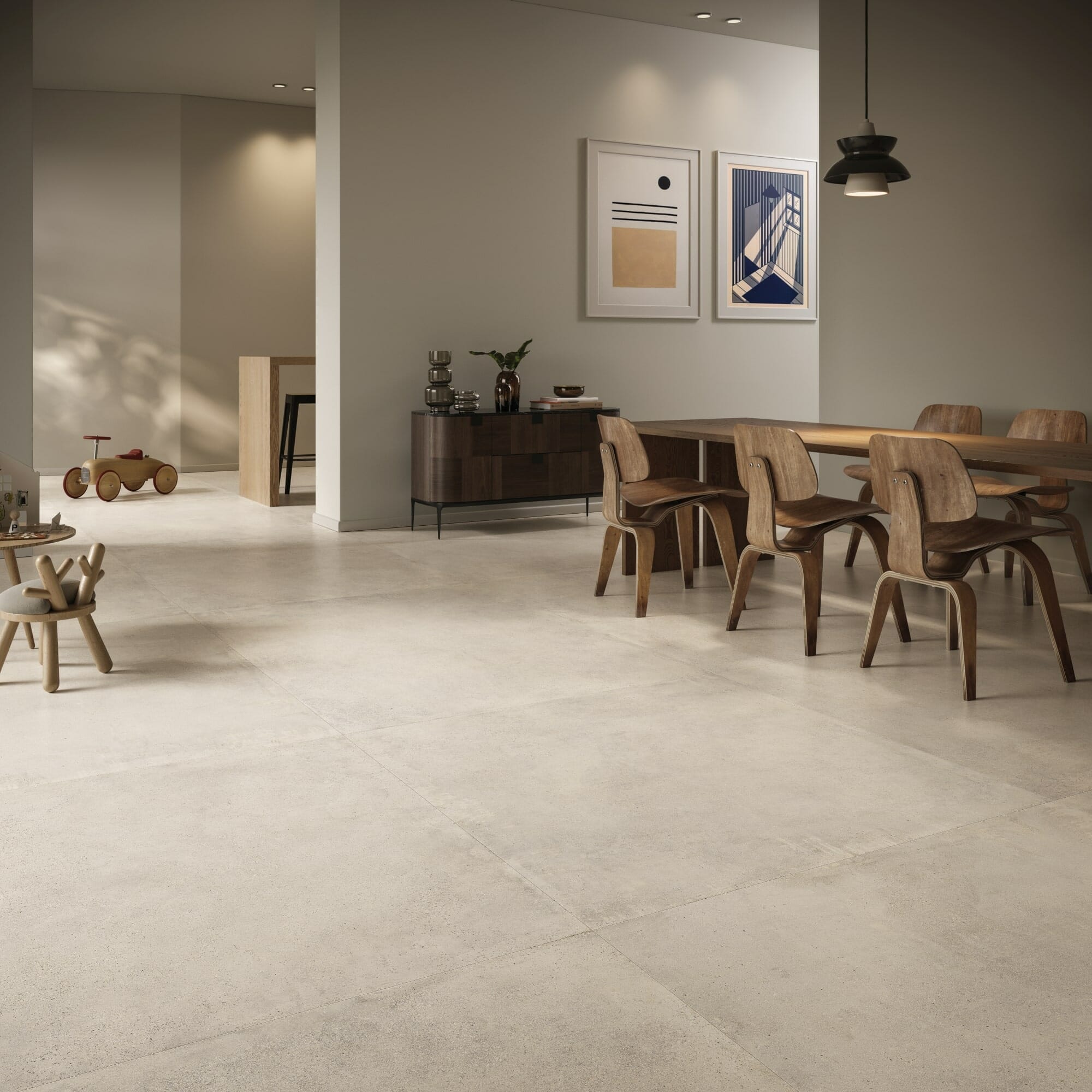 Playing With Colour
Typically, industrial interior designs rely on neutral colour schemes, which you can brighten up with plants or colourful artwork.
This often includes neutrals like white and grey, which create a clean, cool aesthetic. However, you can be flexible by using more varied tones – our Beton Porcelain comes in the traditional white and grey, but you can opt for pearl, carbon or ecru, a beige colour with pale yellow and green undertones.
Accent walls are occasionally used, but sparingly. This might mean a single wall of wood or rust-brown, or a bold splash of red, blue, or green. For example, we matched our Beton Grey Porcelain with blue cabinets and green walls, creating an intriguing aquatic look.

On the other hand, a mixture of warm and cold colours make for a balanced-looking room. Pink and grey is a classic combination, as the cool grey is warmed up by a rosy pink.
Making An Industrial Interior Feel Homely
You don't have to use colours to create a homely feel.
Traditionally, industrial decors have a large, open-plan space, for which the Beton's large-format tiles are ideal. The flooring can flow from one space to another, tying it together under one aesthetic. However, there's nothing to stop you from 'zoning' to make the room feel a little cosier.
For example, you might block off a corner with an extra bookshelf to make a reading nook, or tile behind the stove to indicate that this is the kitchen area. Furniture's a great way to divide the room up, while rugs and blankets can be used to mark out individual spaces.
Texture is also key. You might drape the room with woollen fleeces or soft leather throws, or else turn to wood, a rich material that can fill the room with a sense of warmth, especially in the winter. Natural wood has its own downsides, much like concrete, but we have an abundance of wood-look porcelain that can be used on walls and floors, leaving you free to decorate as you wish!
Design freedom is a characteristic of an industrial interior, so go ahead and experiment!
Industrial Inspiration
We would love to help you with your industrial interior designs! You can browse our library of tiles on our website or visit us in person at one of our showrooms.
We showcase our tiles on Facebook, Instagram, Twitter and Pinterest, so follow us for offers, design ideas and more.