A summer patio can be a kitchen, dining room, playroom and living space all rolled into one. To really make the most of the upcoming summer, many are installing matching indoor/outdoor tiles, creating a flow of porcelain between the house and the garden.
Your home and garden feel like one entity with a matching indoor/outdoor look, letting you break old rules and try new ones as you make your mark on your property. Large format tiles strengthen this visual connection as the details show up more strongly and are uninterrupted by grout lines.
Read on for some of our best-loved large format tiles, coming in matching interior and exterior designs. They're sturdy, durable and fully equipped for the outdoors, letting you focus on the design aspect.
The Limestone Look
Limestone's always looked good in gardens. It can seem elegant or rustic, with a natural stone charm that complements woods, stones and other natural materials. It's also a favourite for classy kitchens and hallways, ideal for a flow of indoor/outdoor flooring.
Warm neutrals are very much in style, balancing out bolder colours with something inviting and cosy. Hexham brings the limestone look in white, beige and grey, complete with veins and fossils. These porcelain tiles offer a soft neutral background with subtle patterns, letting garden colours really pop.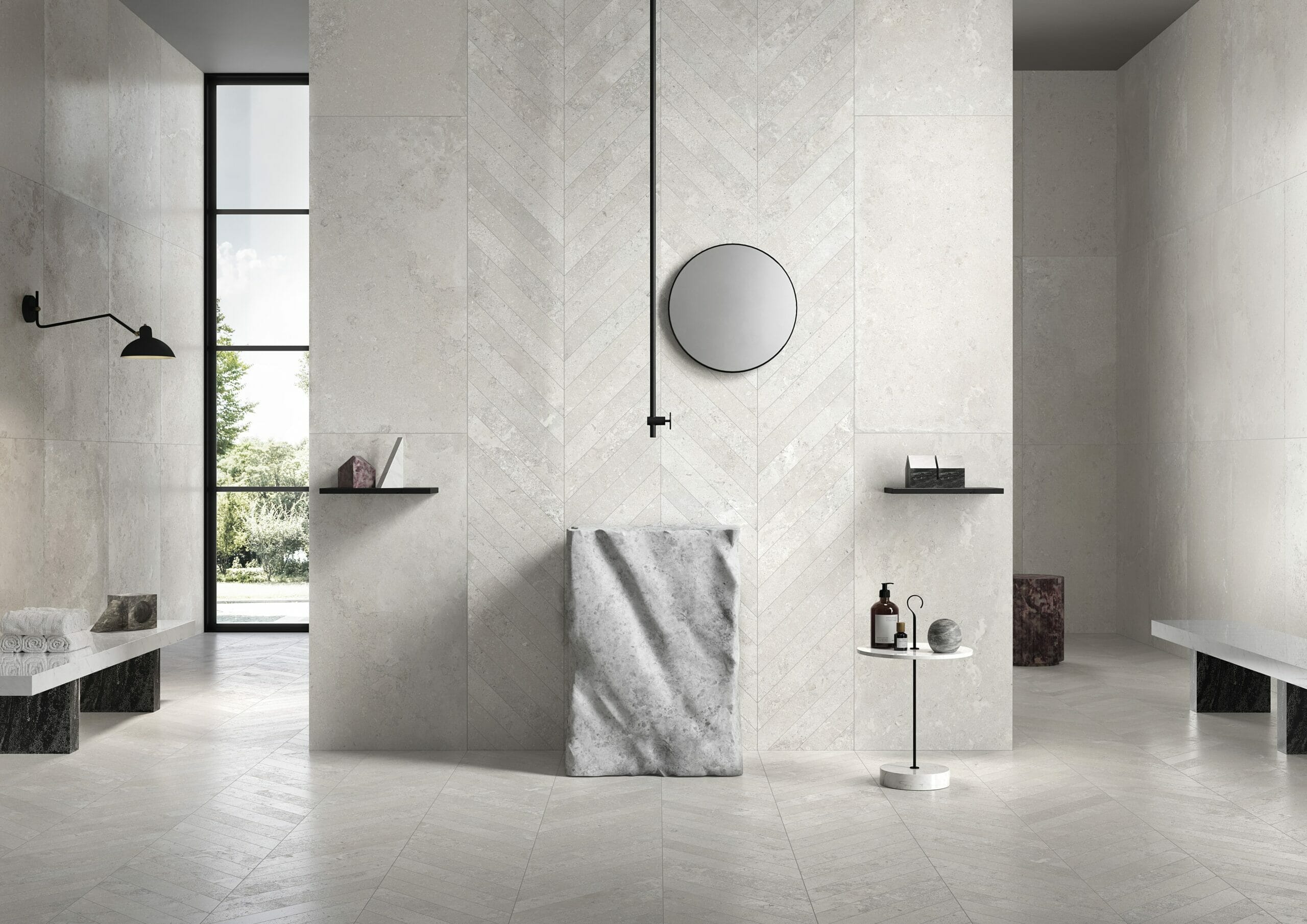 Similarly, the Provence range comes in ivory or ecru, creating a peaceful outdoor terrace or a cool, summery kitchen. It has sways of different colours within the tile, which can be used on walls or floors to create a cosy corner or garden 'zone'. Feel free to use it as an outdoor play space – this tile is easy to clean and has a special anti-slip finish.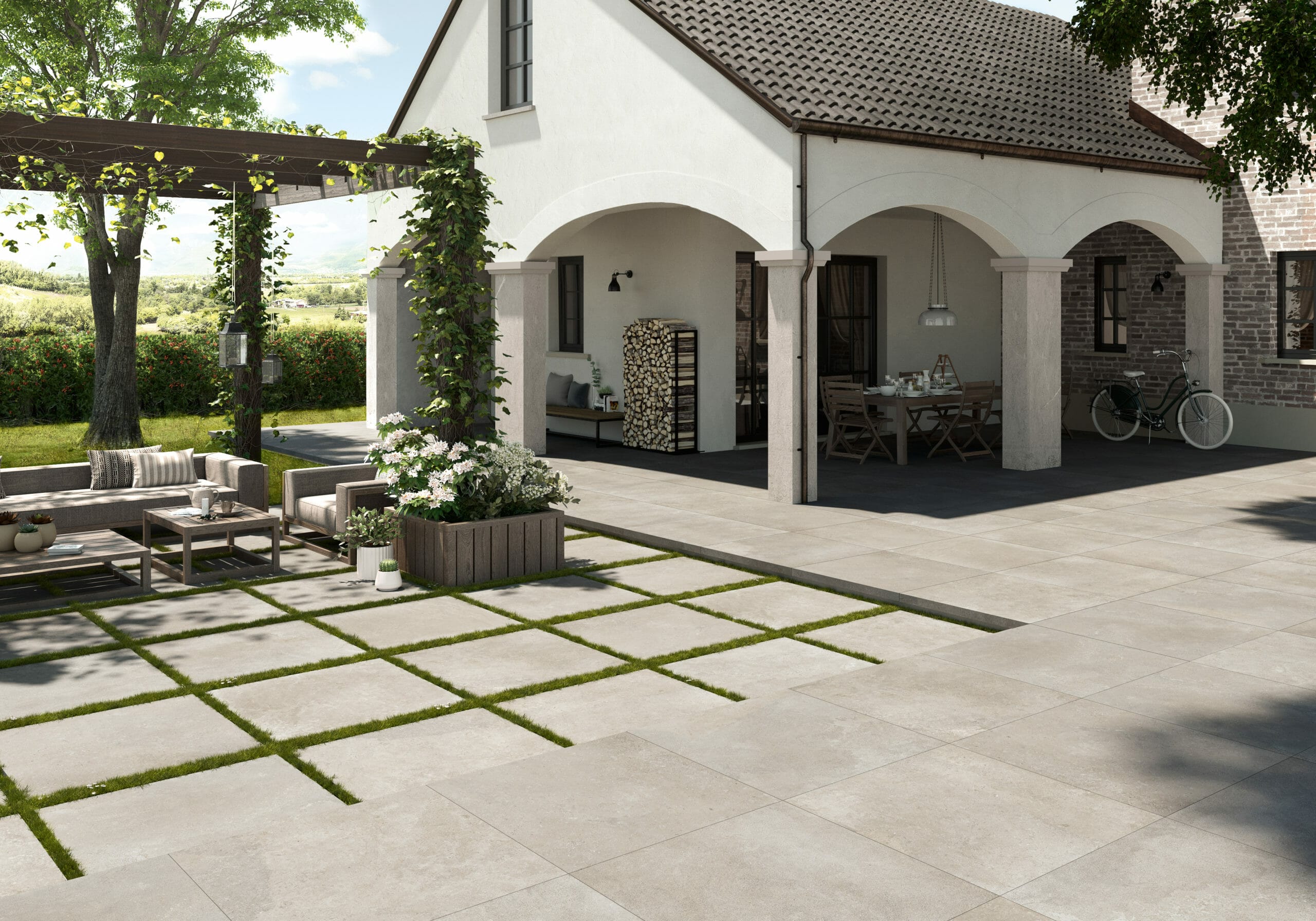 If you're thinking of an outdoor barbecue or dining area, our Florence range is ideal. It was made with special antibacterial technology, which eliminates microbes and prevents their reproduction. You can cook and eat on a pristine anti-slip surface, which boasts a limestone look in five exquisite natural colours.
Down To Earth
Limestone can be sleek and elegant, but it's renowned for having a historical charm. Provence actually has shells in the design, relics of a bygone era. Matina is another authentic stone-effect porcelain, but with a modern, down-to-earth look.

Matina has a concrete-like surface with a crushed-aggregate look, covered with speckles that bring it to life. It's a unique tile, perfect for more industrial styles. It also boasts anti-bacterial properties that are ideal for a sleek, contemporary kitchen.
A second unmistakably modern tile is our new Beton Porcelain. The texture is inspired by cement styling, available in light, understated shades and more dynamic, contemporary colours, like Beton Carbon. It has a distinct urban feel, whether it's confined to one room or used as a seamless indoor/outdoor floor.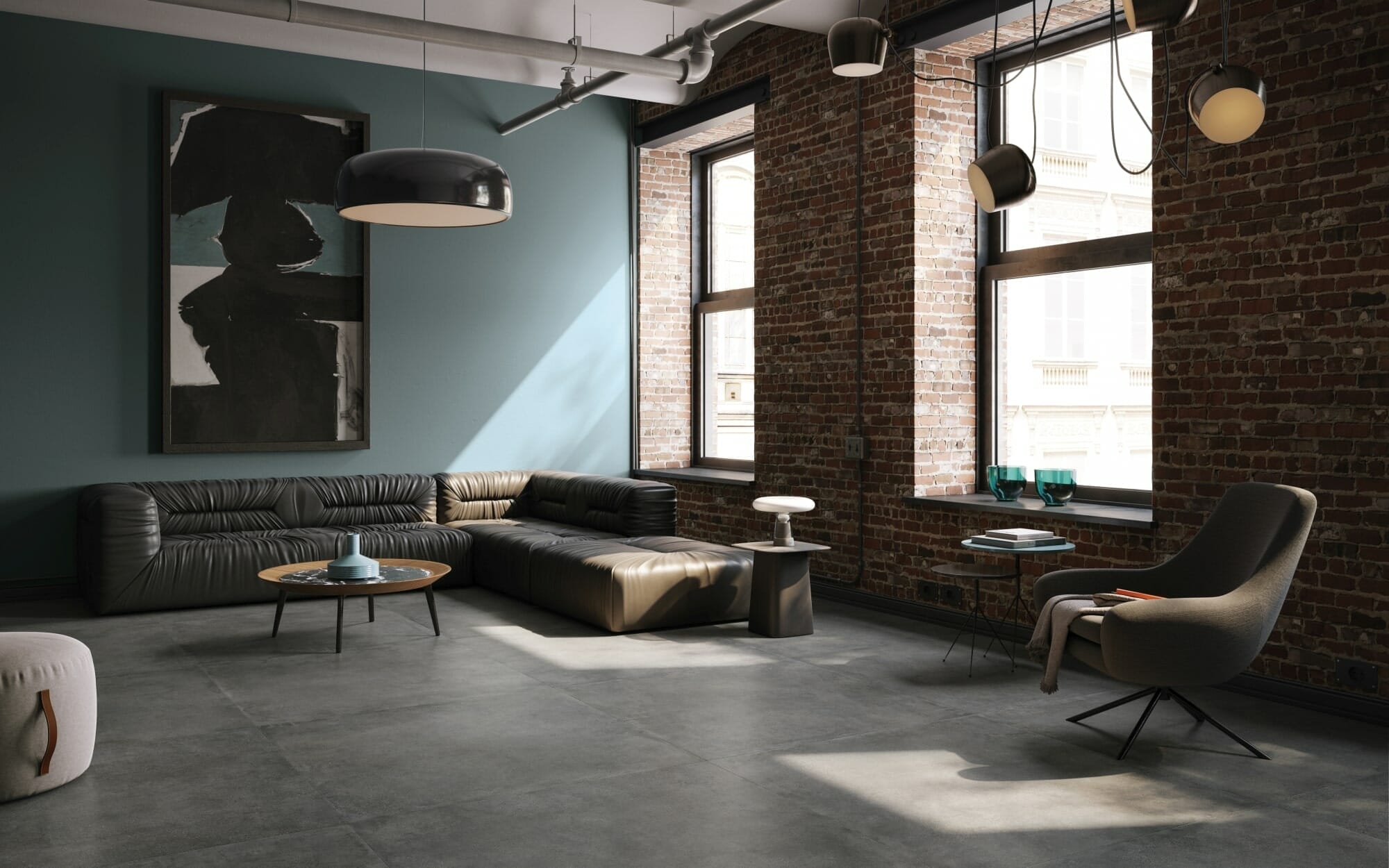 An Indoor/Outdoor Favourite
Our Geneva tiles are much sought after. People have covered their entire ground floor in this marble-effect tile!
The Geneva range is inspired by a mixture of different stones and marbles. The large format tile emphasises the details, particularly striking in the white-veined Nite shade. There are four colour options, including popular warm neutrals and marble-like Platinum.
Unity is at the heart of the indoor/outdoor look. This style comes with matching chevrons, decors and skirtings to give you a truly cohesive interior, while the exterior tile can be used for walls and floors, giving you unlimited choice for your continuous decor.
Before making a purchase, come and visit us in our showrooms. Our stores have big displays of Geneva porcelain, helping you make an informed, confident choice.
Browse Our Tiles On Our Website
Head to our website to see more of our beautiful tiles! Order some free samples to see them in person, or visit one of our showrooms to see them on display.
We showcase our tiles on Facebook, Instagram, Twitter and Pinterest, so follow us for offers, design ideas and more.