Green is a magnificent colour, and natural, earthy green tiles are extremely popular for home decor. We love a deep, refreshing green. It's restful and rejuvenating, ideal for a peaceful, private space.
We've collected some of our favourite tiles to help you generate design ideas. These green tiles can be paired with warm colours for a more balanced aesthetic, or with complementary neutrals like a rich brown mahogany. Alternatively, you can offer just a hint of green with a backsplash or accent wall!
A Natural Hue
Green decors appeal to our love of nature, which is why they go so well with natural materials, particularly rich woods. Our Monaco Glazed Ceramic bricks tap into this theme, with tiles inspired by the natural world.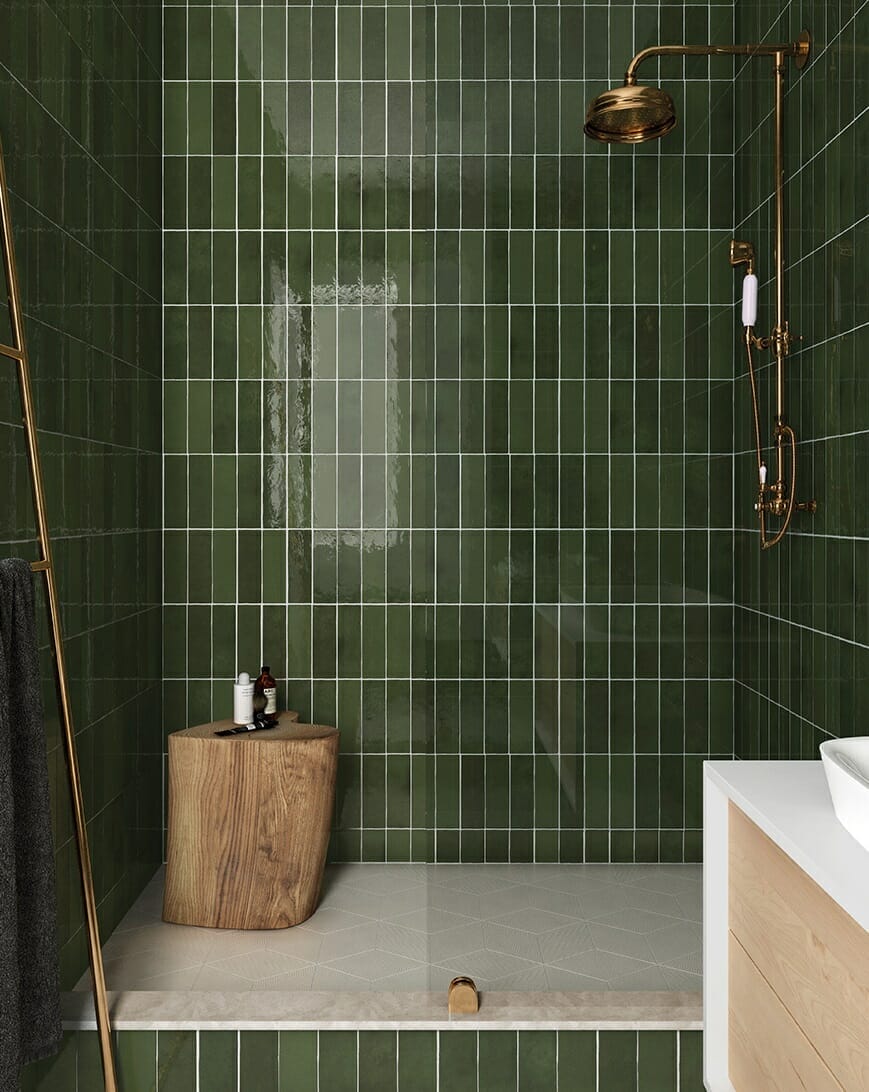 For example, our Monaco Glazed Botanical features small bricks of forest green. We've seen it used as a beautiful shower wall, where its deep colour is both relaxing and reminiscent of a rainforest.
It makes a spectacular feature just by itself, but these tiles can actually be combined with others in the collection to form a unique design. This could include darker green tiles like the Glazed Azur Ceramic, which has a green-blue marine shade.
Perhaps you're envisioning something lighter. The Flint Green Ceramic brick is much paler, with an almost silvery hue. It could make a powerful contrast to bold colours or inject a trace of subtle green into a more monochromatic space. You could even bring out the colour with some strategically-placed plants, creating a gentler environment.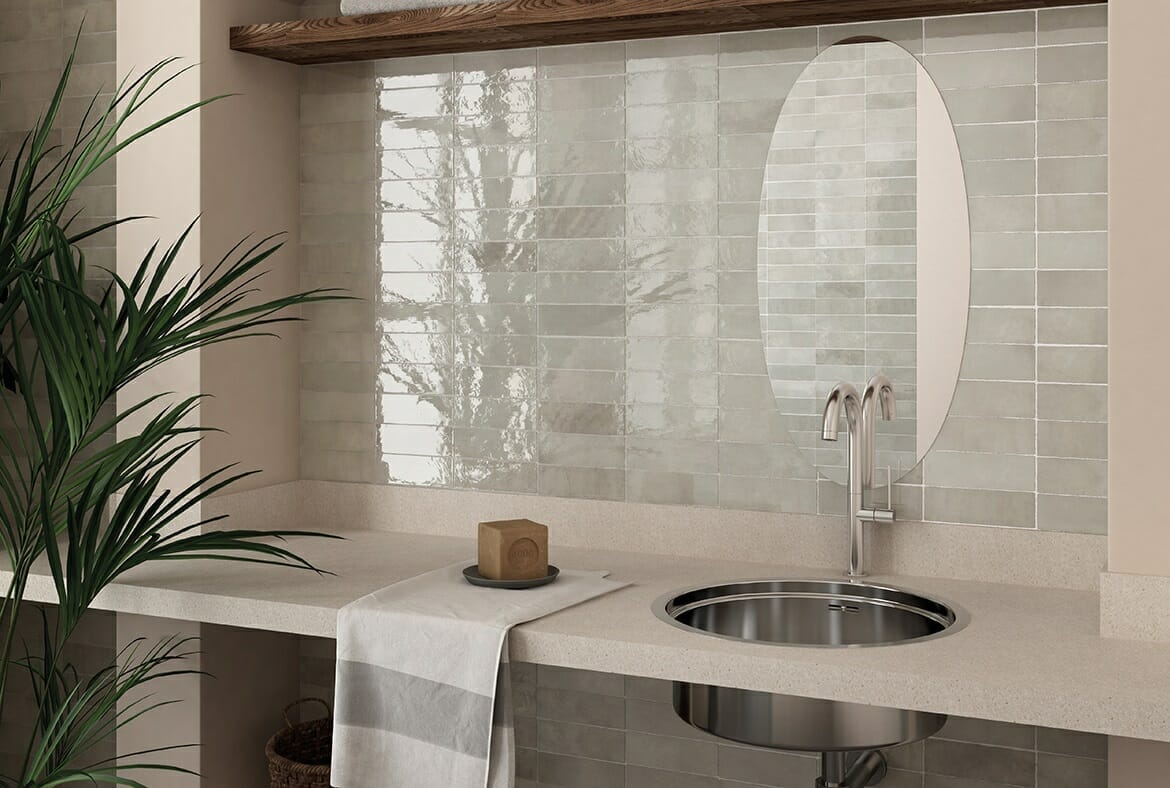 Similarly, the Majorca Fern is a light Spanish brick tile. It has a curious light shade that suggests a summery and elegant room. It's soft and versatile, a good match both for white and for dark contrasts, such as brown or charcoal.
Metallic Tiles
Green is generally thought to be easy on the eye. However, our Metallic Bricks manage to infuse green tiles with a sense of dynamism.
Our Metallic Green Bricks use a darker shade, one associated with luxury and affluence. The bricks have darkened edges and a glinting surface, creating a glamorous and alluring feature, perfect for a more sophisticated approach.

Terrazzo Tiles
Alternatively, you can indulge in some familiar pastel shades. Pastel green is soothing and springlike, a popular colour for friendly spaces.
Our Venice Terrazzo tiles combine pastel green with other complementary colours, imitating the mosaic-style design of Italian terrace floors. The green background has an iconic pattern of white, black and pink pieces, which contrast beautifully with our Venice Plain Matt tiles.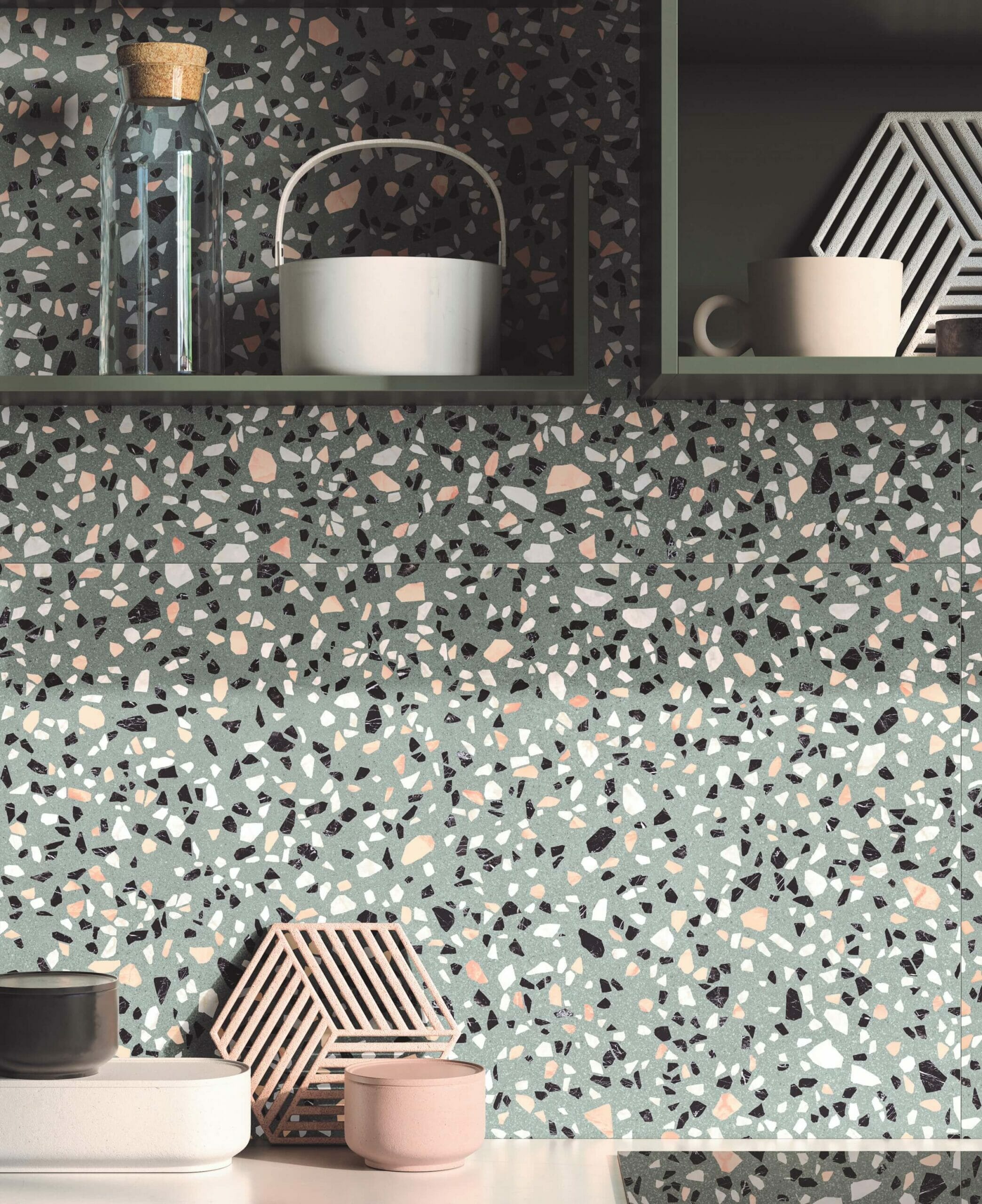 Onyx Green Tiles
Last but not least, our seventh tile will transform your space into a work of art.
Our Onyx Porcelain imitates the beauty of onyx gemstone, using multiple layers of translucent green. It's exceptionally flat and has a mirror or matt finish, with glamorous gold details shining through.
This porcelain can be used in any room where you want to impress. It can be used on walls and floors, so let your creativity run wild with these jewel-like green tiles.
Browse Our Tiles
We would love to help you find the perfect tiles. Head to our website to browse our products or speak to us in person at one of our five showrooms.
We showcase our tiles on Facebook, Instagram, Twitter and Pinterest, so follow us for offers, design ideas and more.