With indoor fans whirring and hot pavements simmering, our gardens are becoming the go-to place to shelter, sunbathe, work, read and rest. Garden tiles are ideal for creating this special summer sanctuary, whether you're reclaiming space from a garden gone wild or setting up a seating area beneath a pergola. 
These brand-new outdoor tiles are suitable for all outdoor environments, showcasing a rather special stone-look charm.
Rock White
Porcelain
If your garden is intimate and shady, white tiles are perfect for opening up the space and introducing more light. Our Rock White tiles combine a light colour with the look and feel of natural quartzite, a type of sandstone that's been converted into quartz rock. This 20mm anti-slip porcelain is an elegant and intriguing patio for any garden space. 
These garden tiles are a cool and durable porcelain that feels sturdy and pleasant underfoot. The colour variations within the tile create an authentic feel, whether it's paving a patio or the edge of a pool. 
If you fancy a slightly darker look, the Rock Grey will add a lovely contrast to your outside space with the same textures and veins in a light grey. This light grey shade complements the Rock White beautifully, whether you're using it as a subtle accent or in direct contrast as part of a chequerboard pattern.

The Siena Collection
Siena 1200 x 600 x 20mm large format garden tiles bring a different stone effect. These imitate travertine, a popular form of limestone with soft earthy tones. Prized throughout history, travertine has been used in both ancient and modern buildings to spectacular effect. 
Our Siena Porcelain takes travertine's sense of shifting tones, colours and sediments, creating an authentic limestone look in classic white and ivory tones. The creamy undertones of the Siena Ivory brings warmth to the outside decor, an effective seaside shade to contrast against water features or blue pools. 
You can take this tile inside with its matching interior porcelain, joining it seamlessly with your choice of Siena Exterior Porcelain. This gives you a fashionable indoor/outdoor look, blurring your boundaries with a continuous flow of flooring between the house and garden. Conservatories, orangeries and hallways are particularly good for this design approach, as are any indoor spaces with a large expanse of glass door.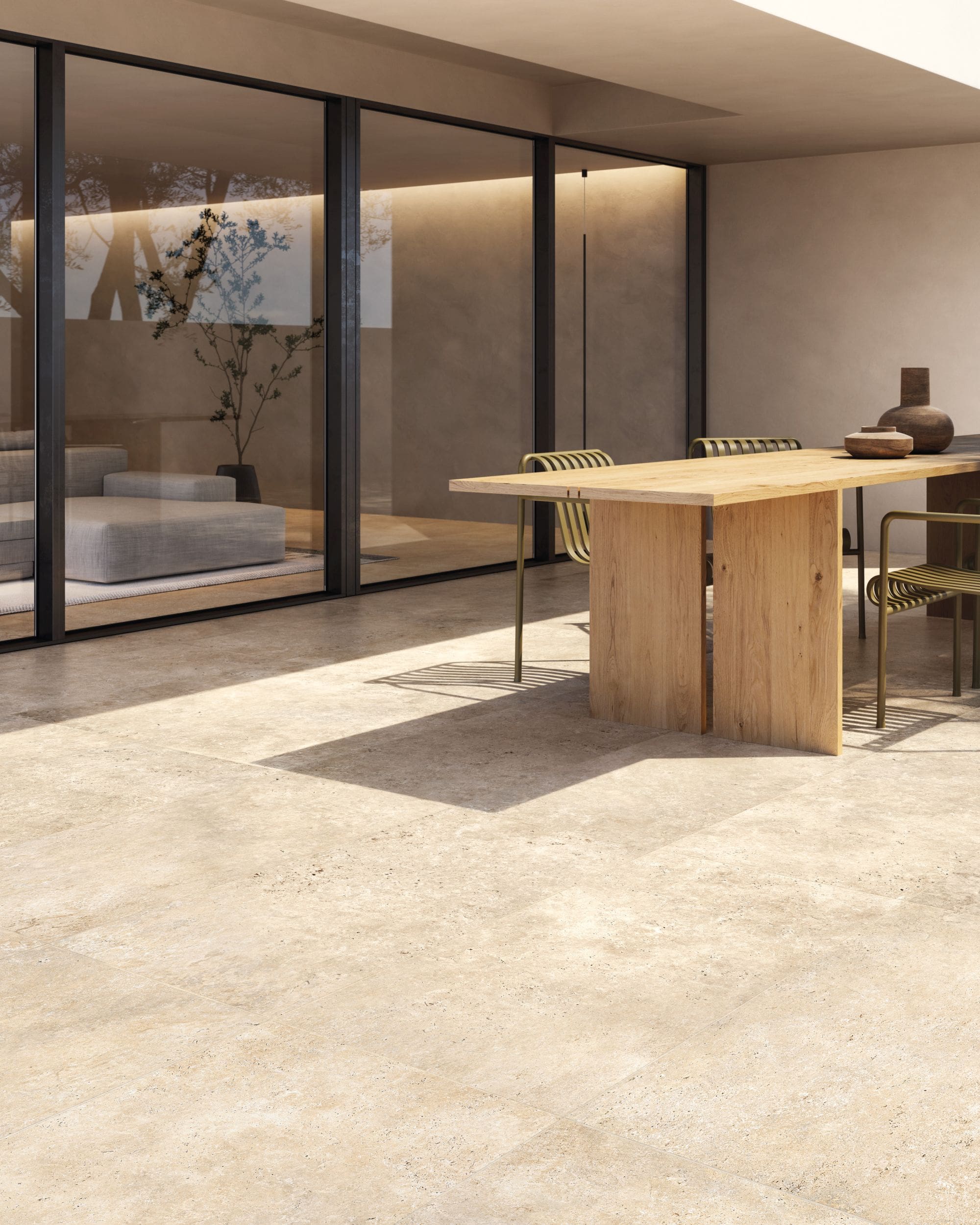 Hexham Porcelain
Lastly, we come to the Hexham range. These garden tiles are Italian rectified porcelain, displaying all the characteristics of a natural limestone. The large 900 x 600 x 20mm tile size makes the veins and fossils particularly noticeable, standing out against a seamless sweep of porcelain in white, beige and grey. 
As with the Siena range, you can pair the Hexham exterior tile with the matching interior porcelain, incorporating the same look inside and outside of the house. However, you can also use the interior tiles on any wall and floor surface, letting you create your own stone-walled sanctuary! They can be installed as a background to plants, chairs or artwork, or used to section off an area dedicated to eating, cooking or resting.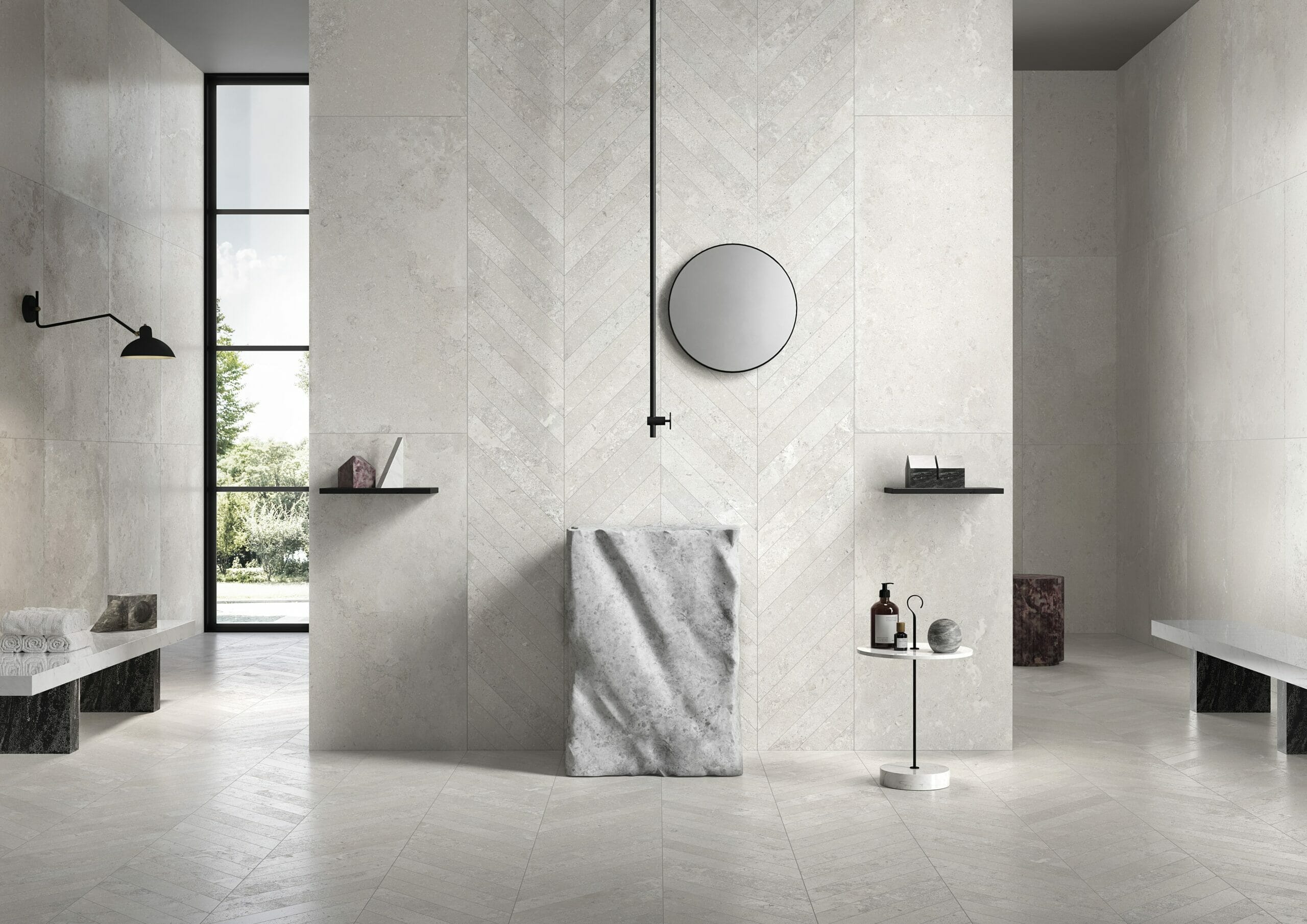 Cool, Clean And Low Maintenance
These stone-effect tiles link your spaces with the textured beauty of the natural world. However, they're as cool and comfortable to walk on as if you were at a spa.
Not only is porcelain extra durable, our interior tiles are cool to the touch, ideal for pets, small children or anybody padding through your kitchen in bare feet. When outside, our tiles retain their charming original colours even in intense sunlight, as porcelain is resistant to UV fading. 
With high grip and slip-resistance, porcelain is a safe solution for your garden. It has very low rates of water absorption, which increases its durability and strength. This benefit lasts all year round, as it stops water soaking in and freezing in the winter, so the tiles will not crack. 
Finally, you won't be rushing around with a polishing machine. Porcelain tiles require exceptionally little cleaning, with no sealing, polishing, waxing or buffing. Any stains can be washed away with a brush and warm water or a power washer, leaving you with gleaming stone-look garden tiles. 
Browse Garden Tiles At Terzetto Stone
Discover our exterior tiles by visiting our website. Stone-effect tiles give a very specific look, but you can also explore our wood-effect porcelain tiles, many of which can also be used outside. Alternatively, you can view them in person at one of our five showrooms.
We showcase our tiles on Facebook, Instagram, Twitter and Pinterest, so follow us for offers, design ideas and more.