Although it seems like there isn't much of a difference between a chevron and a herringbone pattern, it turns out there is a bit more behind it than we think. Although the difference between the two seems minimal, they can each have a dramatic effect on how your wall or floor looks. Let me take you on a brief journey between these two glorious patterns.
Let's start with the basics, shall we? The main difference between the two is the overall shape of each tile. To achieve a chevron pattern, each individual tile has to be cut at a 45-degree angle at each end. When being laid, the edges of the 45-degree angles will create a crisp V shape and zigzag pattern. The chevron design has only recently been used to bring life back into people's homes, due to its quirky appeal.
In comparison, when creating a herringbone pattern, the tiles are not cut at a 45-degree angle and remain rectangular in shape. The edges of the tile are laid flush against each other, to create a clean continuous flow across your wall or floor.
About Chevron Patterns
If you are considering using a herringbone pattern to make use of a wall or floor space, you should consider a chevron pattern, as it is a lot more youthful, due to the unique V joint. The chevron pattern can also make your home look more contemporary, without having to compromise on the practical benefits of tiles being laid using more traditional formats.
If you decide to use the chevron pattern within your home, we suggest that if you want to make the formation stand out more, try using colours that contrast slightly to make the V more dominant. Similarly, you could use coloured grout to achieve the same effect. If you are considering only covering part of a wall using the chevron, consider the paint colour of the wall behind it, as this could dramatically affect how your tiles stand out. If the colour of the wall is similar to your tiles, the effect could be lost and become less impactful.
A chevron pattern may not be as hardy as a herringbone, but that makes it even better for rooms in which the priority is form, rather than function. The unique design will make whatever surface you've tiled, stand out from the rest of the room and has been known to tie an entire space together.
We suggest that a chevron formation would be best applied to a smaller room or space which could be considered cramped. The chevron design can provide a spacing effect to make the room feel a lot more open, especially when you use a light coloured tile and grout. Lighter colours will make the space you wish to rejuvenate, feel a lot warmer and airy.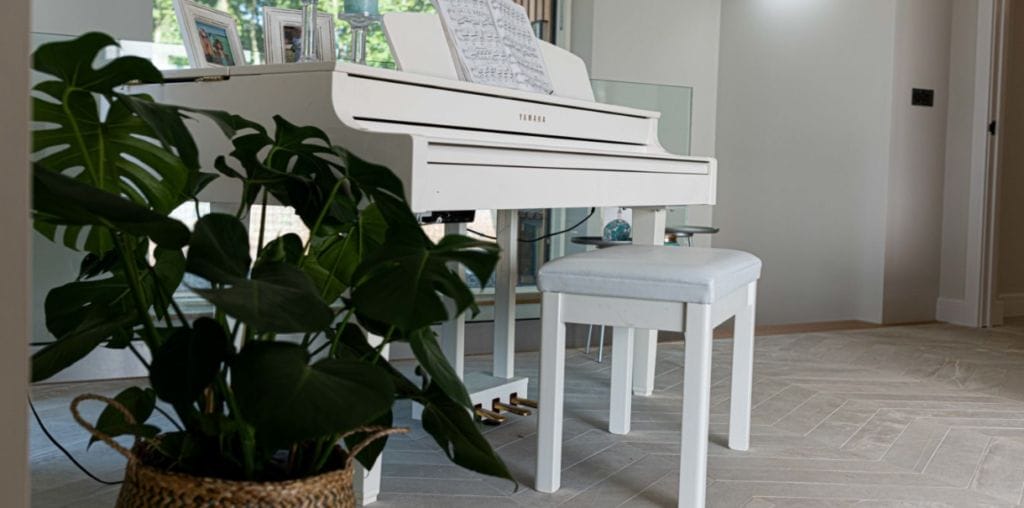 About Herringbone Patterns
The herringbone formation has been around for a while and could be considered to be a classic tile formation. Unlike the chevron pattern, the tiles do not need to be cut before application. Meaning that tiles that are cut into a rectangular shape can be used to create a herringbone formation.
With the herringbone pattern being a lot easier to lay throughout your desired space, there is a lot more scope for you to get more creative with your project. Why not consider using a lighter tile with a dark grout colour, for a modern and contemporary aesthetic? Or if you are looking to create a more authentic or minimal look, try matching your tile and grout colour where possible.
Although the herringbone could be considered to be simpler, in comparison to the chevron formation, it is a very effective way for you to bring energy back into your home. With a vast choice of coloured rectangular tiles, you are certain to find a look that suits you.