Of all the rooms in the house, the kitchen is the most chaotic, with splashes of sauce, sprays of oil and drops of condensation – hence the need for a backsplash!
However, the kitchen has become so much more than a functional space, with homeowners seeking to decorate with style in mind just as much as practicality. Scroll down to browse ideas for classy backsplash tiles that will protect your walls and enhance your kitchen aesthetic!
A Brick Backsplash
A kitchen backsplash is the perfect opportunity to try something different, as it can also make an excellent feature wall, contrasting against the rest of your decor. Brick tiles are ideal for experimenting, being a versatile and economic way to make the most of a limited space.
Our Catalan Glazed Ceramic makes a terrific backsplash, with the ceramic glazing making it waterproof, easy-to-clean and resistant to most stains. The tile itself mimics a hand-finished product, bringing a sense of class and artistry, while the six available colours open up numerous design possibilities. This selection can endorse and complement a range of aesthetics, from creating a contemporary look with a bone or grey tile to encouraging a warm monochrome with a softer taupe. You can also opt for a fashionable 'pop' of colour with our Catalan Glazed Pink, which brings with it an air of softness, kindness and femininity.
You can try the same selection of colours with our Regent Glazed Ceramic, which has the same sense of sophistication and same level of protection. See whether you prefer a traditional stack bond layout or the fashionable herringbone pattern, preferred for its eye-catching suitability for a feature wall.

Going Metallic
One of the great things about modern design is the ability to combine a porcelain tile with a metallic finish!
Our new Metallic Brick boasts an iridescent shine that automatically draws the eye, giving the impression of constantly changing colour. These tiles add glamour to any room that they're in, making them ideal for a modern kitchen that pushes all the boundaries. The porcelain material is perfect for a backsplash, as are the size of these small and flexible tiles. You can create a backsplash that reaches the height of the entire room or confine yourself to a narrow space between counter and cupboard. Alternatively, you can go wild by mixing up colours in your own design, which would make for a first-class accent wall! Feel free to integrate our different available shades, from blue and white to black and green – the world's your oyster!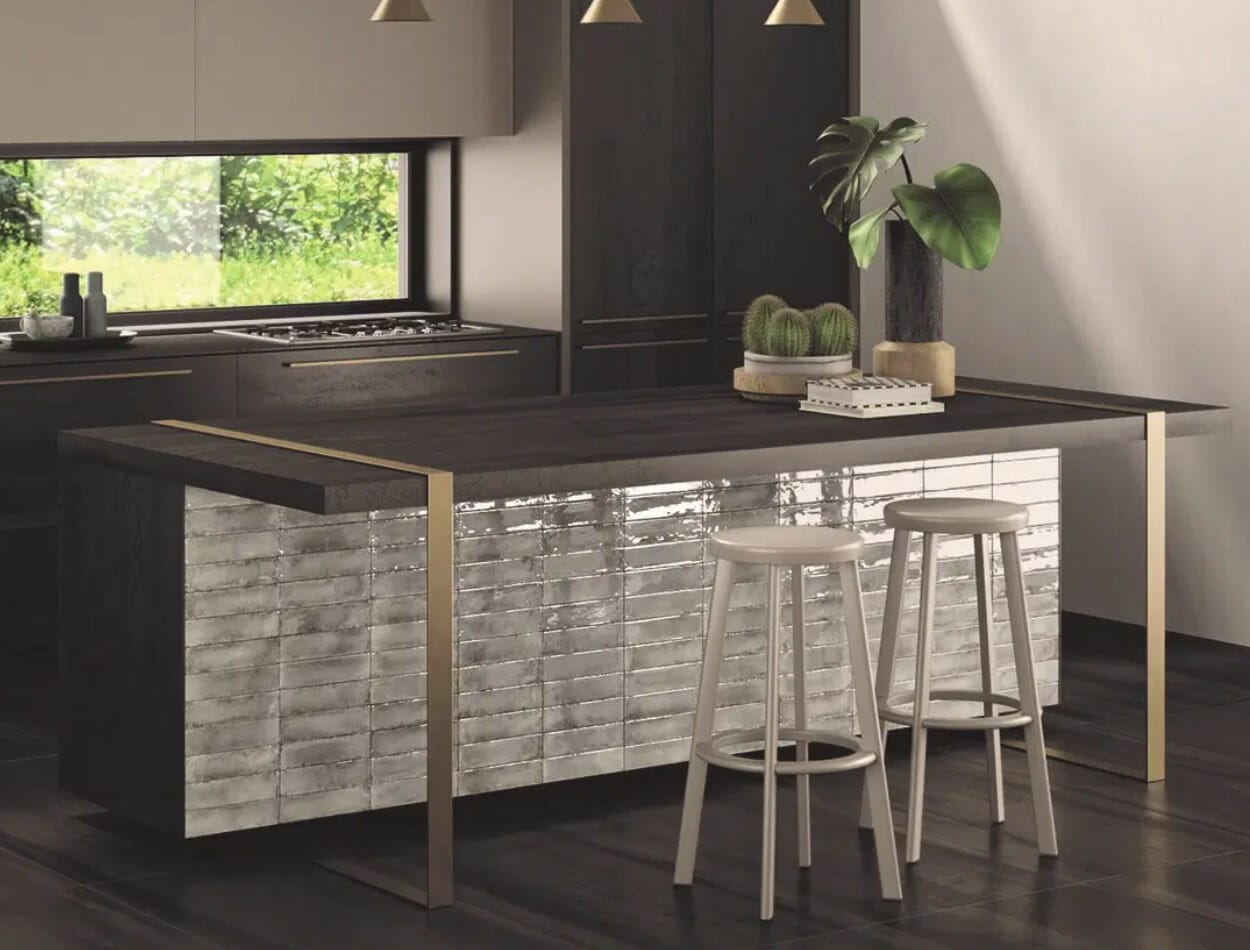 The Patterned Backsplash
Metallic tiles won't fit in with everyone's aesthetic! In fact, we're seeing a resurgence of patterns, soft colours and vintage styles, for which our Castello range is ideal.
Choose between our Castello Cold and Warm Mix for a decorative Italian porcelain that complements our Castello range, bringing with it a unique collection of different patterns in cool greys or warming beige. The contrasting shapes and chequered patterns lend themselves to a slight quirkiness, the kind you might expect to see as a backsplash for a welcoming cottage kitchen.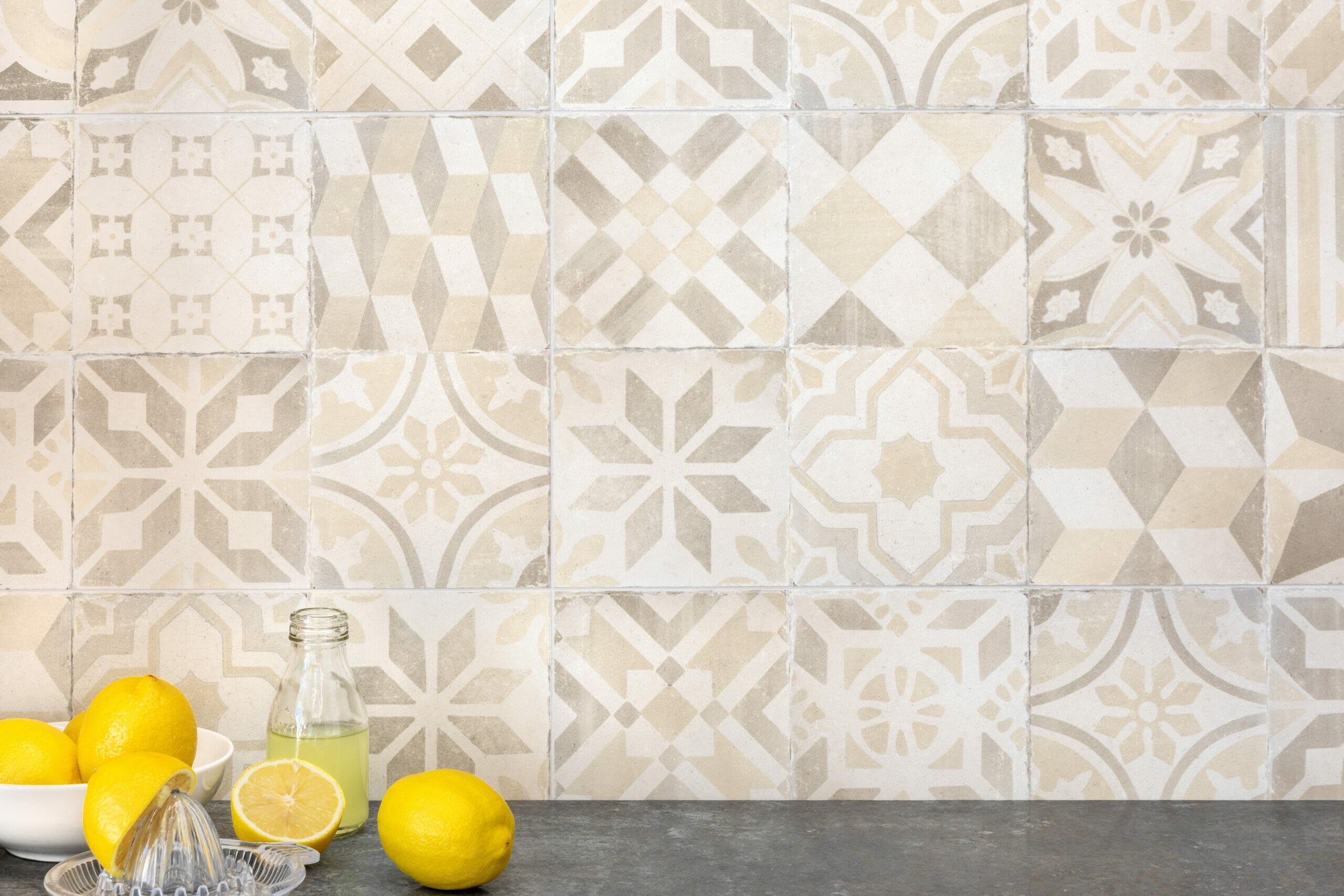 Our Décor Designs
Variety is the spice of life, which is why it's a pleasure to offer you so many choices from our Marseilles and Modellato selections!
The Marseilles collection features nine décor designs that instantly draw the eye, with geometrical patterns conveying something neat and effortlessly sophisticated. Some of these motifs give off an unmistakable contemporary feel, such as the Marseilles Decor Six. Others are less monochrome, offering blues, greys and copper browns to create a different look.
No matter the style you choose, the result will always look striking, just like the 10 designs from the Modellato collection. Each of these has a wow factor that is certain to capture attention. From star patterns to intersecting circles, there's endless choice for a fascinating backsplash.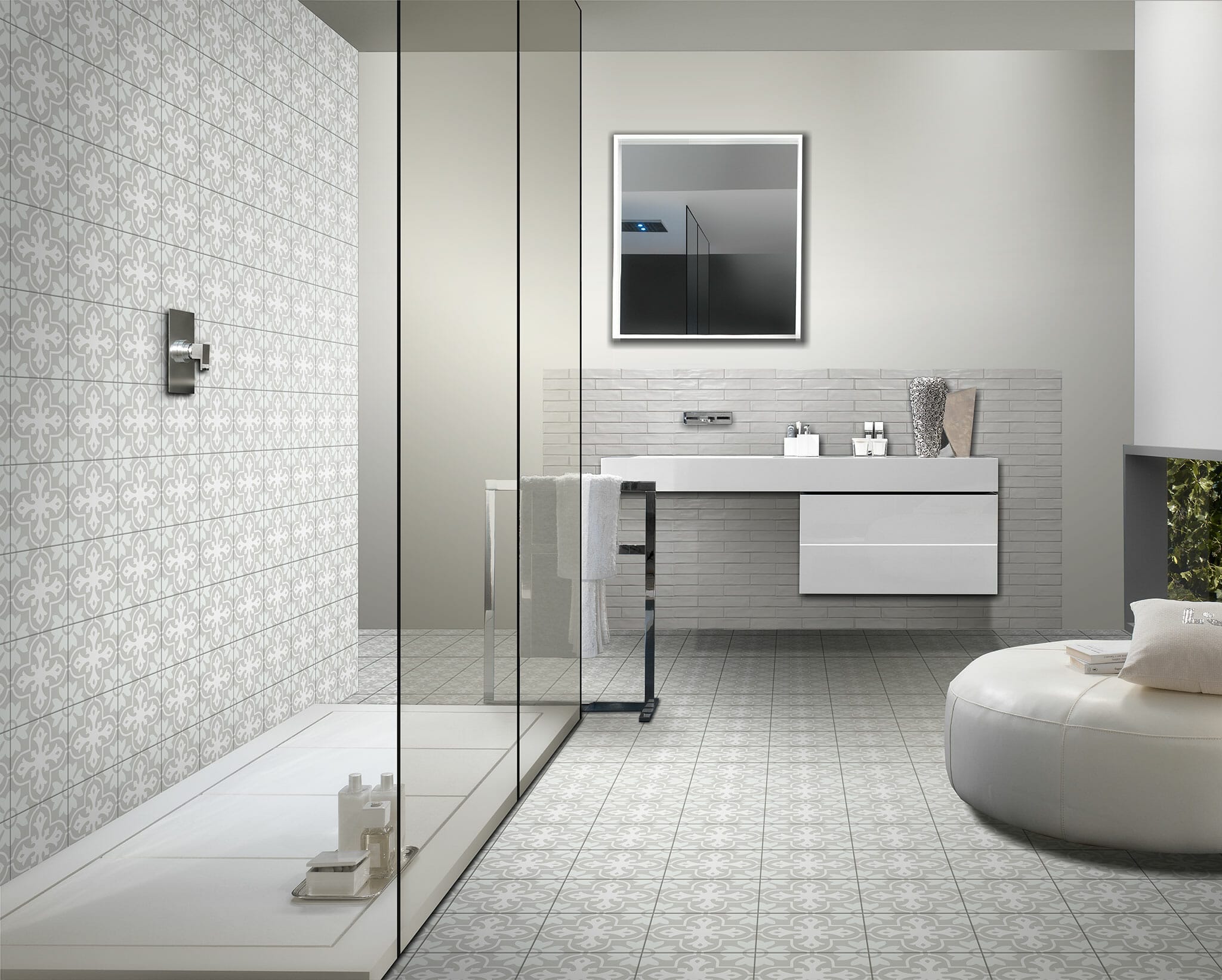 Browse Our Website
Make a start on your kitchen designs by browsing our website or viewing our tiles in person at one of our five showrooms!
We also showcase our tiles on Facebook, Instagram, Twitter and Pinterest, so follow us for offers, design ideas and more.